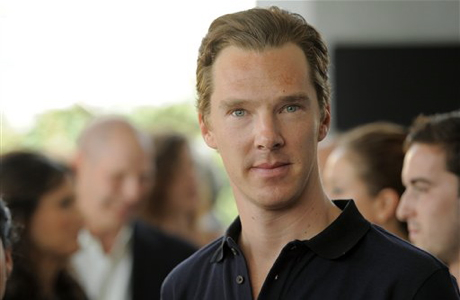 So where are we up to with Benedict Cumberbatch's future projects so far? There's The Hobbit, the Brian Epstein film, the Monty Python film, the Julian Assange film, and the possibility of an appearance in the next James Bond movie…was that all of them?
Well it's not enough. Nowhere near. Now he's added his voice to The Snowman and Snowdog, written by Hilary Audus as a sequal to the Raymond Briggs British animation classic The Snowman, and it'll be appearing on British screens this Christmas Eve.
Or rather, as the original had no spoken parts, and nor does its sequel, what Benedict will be doing is narrating an audiobook version of the same tale, that will be available for Kindle, Nook and Apple devices on December 29.
The Snowman and Snowdog is set some 30 years after the original, in which a young boy is taken on a magical journey by his snowman. This time there's another young boy, whose dog has just died. He finds a special scarf hidden under some floorboards, makes a snowman and a snowdog, and…well that would be telling.
Here's the original, introduced by David Bowie:
http://www.youtube.com/watch?v=cgTpoy91nWo
An excited (not to mention knackered) Benedict told the Radio Times: "The magic of The Snowman is universal for every generation; as is the thrill of a first encounter with snow.
 "And in this new story, to bring the Snowdog to life for new young readers was a joy. I hope it will become as much of a Christmas tradition as the beautiful original was when I was a boy."
Stay tuned for more Busy Benedict news. There's bound to be something else, any moment now.
Read More
Filed Under: