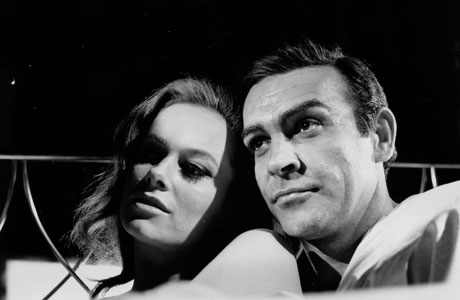 A new James Bond documentary will be unveiled on today (October 5), which has been branded "Global James Bond Day" to mark the 50th anniversary of the screening of Dr. No – the first 007 movie.
The new documentary Everything or Nothing looks back at the key players in the world's longest running film franchise.
The focus is on Bond author Ian Fleming – as well as film producers Albert R. Broccoli and Harry Saltzman.
There are also interviews with five of the actors who've played Bond over the years.
Although aiming to capitalize on the 50th anniversary of the Bond movies this comprehensive documentary is refreshingly free of promotional hype.
It chronicles some of the awkward moments and tensions between key players.
There are also times when the men who've portrayed Bond are quite candid. (Watch interview with director Stevan Riley below.)
Pierce Brosnan explains how fearful he was when he had to utter for the first time the famous line: "My name is Bond…James Bond."
The documentary's director Stevan Riley says: "Pierce was very honest with me when I asked him about his nerves."
But he goes on to point out that some of the other Bond actors interviewed for the documentary also had worries in taking on such an iconic role. "All of them were afflicted by that sense of paralysis," says Riley.
Read More
Filed Under: