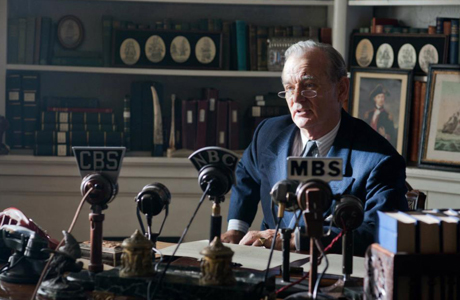 British filmmaker Roger Michell has been promoting his film Hyde Park on Hudson while fighting the perception that his picture is a version of The King's Speech.
He says, "It's annoying. Historically this film started a long time before The King's Speech was made. This film originated as a BBC radio play."
Hyde Park on Hudson, starring Bill Murray, Laura Linney, Olivia Colman, Olivia Williams and Samuel West, does share similarities with The King's Speech: it's a period drama, and it focuses on the same British royal couple. But Michell's film has little else in common with the Oscar-winning King's Speech drama starring Colin Firth.
Hyde Park on Hudson chronicles what happened during one weekend in June 1939 when King George VI and Queen Elizabeth traveled to President Franklin Delano Roosevelt's estate in upstate New York. The aim of the royal visit was to help secure America's support for Britain in the looming conflict with Germany.
Michell says: "It's a very different story. We didn't want to be perceived as some commentators have suggested as being opportunists or jumping onto some regal bandwagon. It just made me very angry to read that."
Among the comments that have irked Michell is one review in Britain's Guardian newspaper which read: "Roger Michell's film about Franklin D Roosevelt shamelessly clings to the coat-tails of The King's Speech."
That "got on my nerves," acknowledges Michell.
But the director is keen to point out that he's "a huge admirer" of The King's Speech and he believes that audiences will enjoy revisiting the regal characters at the center of The King's Speech through "a slightly different prism" in his film.
Hyde Park on Hudson opens in the U.S. on December 7.
Read More
Filed Under: