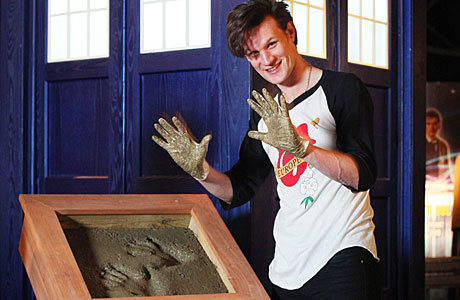 Fear not, gentle Whovian, Matt Smith has not been wrestling with a new and more liquidy form of Weeping Angel (or even mucking out their chemical latrine), he and Steven Moffat have had their hands cast in cement as part of the latest additions to the Doctor Who Experience in Cardiff.
They popped down to the unveiling of several new attractions, coming straight from the most recent episodes of Doctor Who, including the dress and boots Jenna-Louise Coleman wore as Oswin in Asylum of the Daleks, the chained Weeping Angel from The Angels Take Manhattan, Solomon and Nefertiti's costumes from Dinosaurs on a Spaceship, and those glorious bickering robots from the same episode.
Matt told the press: "I'm honoured to have made my own little piece of Doctor Who history today. It's a show with so much tradition over nearly 50 years, so to be the first Doctor to take part in something like this is really special".
"It's fantastic that the Doctor Who Experience has been given its very own purpose-built home here next to the studios and it feels like a bit of a spiritual home for Doctor Who. It's been great fun unveiling some of the Doctor's most fearsome adversaries from Series 7 and with the Christmas special and more episodes next year, there'll be plenty more props to come down the line."
Steven Moffat added: "I'm very excited and honoured to have my hands preserved forever. And quite relieved they came back out of the cement! I now know, for all my future crimes, that my fingerprints are readily and permanently available."
And they will definitely be closely examined, as the Doctor Who Experience – the only interactive Whovian attraction in the world – has already welcomed over 40,000 fans since it first moved permanently to Cardiff from London's Olympia, back in July.
Read More
Filed Under: