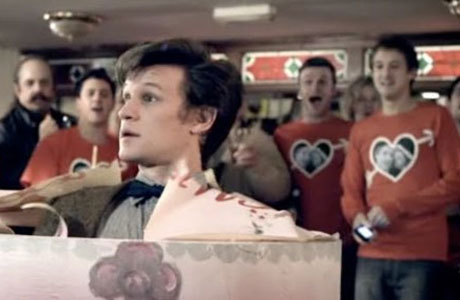 It's Matt Smith's 30th birthday today, and to celebrate every single one of those years, we've come up with a list of 30 things that are brilliant from his time as the Eleventh Doctor. Things he's done, things he's worn, things he's said, things he's blown up.
Consider this list to be a virtual version of the rings in a tree trunk, and let's look forward to adding a few more as the years go by:
1: The Fez
http://www.youtube.com/watch?v=bvWYw0CnuSI
2: The Bow tie
3: The Tweed Jacket
4: Angry Doctor
5: The Doctor and River:
6: The Chin
7: The Old Man In A Young Man's Body
8: The Sad Brow: "Thank you"
9: The Floppy Hair
10: Geronimo!
11: Innocence #1: "That's All Humany Private Stuff"
12: The Joydancing
13: This Face
14: "I'm Very Clumsy, In Case You Hadn't Noticed"
15: The Guilt And The Fury
16: Putting On My Top Hat…
17: The Teenage Boy In A Grown-Up's Body: "Only When We're Alone…"
18: "Basically… Run"
19: "There's One Thing You Never Put In A Trap…."
20: This…
21: Being friendly as a threat
http://www.youtube.com/watch?v=vTel5vVhYqQ
22: The Doctor and Amy
23: Sadface Specs
24: Football
25: Innocence #2: "So What Did You Call Him? Will I Blush?"
26: The Cowboy Hat
27: Being Really Good With Kids
28: Keeping His Cool In A Tight Spot
29: Vulnerability
30: (Of Course!) Fish Custard
Oh and here's how the Doctor Who production team celebrated:
Read More
Filed Under: