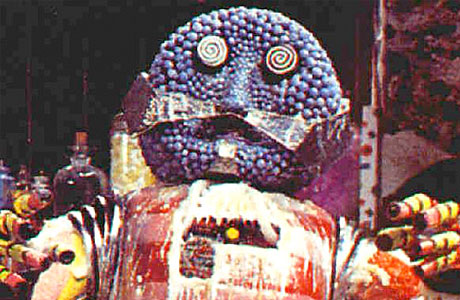 This is a post devoted to those Whovian villains that possibly caused more of a headscratch than a dive behind the sofa. When you travel the wilderness of time and space like the Doctor does, you're bound to run into a few unusual people here and there, and yes, some of them will be terrifying despots or monstrous armies. But some will just be a little weird and unsettling, causing a certain amount of fear in their wake, maybe even putting people's lives at risk, but never quite manifesting as The Actual Stuff Of Nightmares in the way that, say, certain stony creatures with wings have. But they are all unforgettable in their own way.
Let's start with the most odd of all (oh and beware, there will be spoilers):
Kandy Man (The Happiness Patrol)
Yep, this is a deadly killer robot made of sweets (marzipan, sherbet and caramel, apparently). And he's a rotter too, as bad for your general health as he is for your teeth.
Scaroth (City of Death)
I know what you're thinking, he looks like a badly-shaved blowfish resting on the neck of a European duke, but Scaroth actually had a cunning plan involving stolen paintings and the Mona Lisa. Somehow this ended up with him creating all human life, instead of destroying it, and he clearly has a glass jaw.
The Dream Lord (Amy's Choice)
This fella, who turns out to be a manifestation of the Doctor's twisted psyche (damn you, mind pollen!) is great a tearing a strip off people and revealing their vulnerable underbelly. And then prodding it with a sharp pencil. Sometimes you don't have to invent the Daleks to be a total swine.
Bok the Gargoyle (The Daemons)
A moving statue, you say? Well, what could be scary about that? Actually, given the doomy atmosphere of this particular story – it's basically The Exorcist crossed with The Wicker Man – and the fact that old Bok here appears to be heralding the arrival of Satan himself (thanks in no small part to the Master), plenty.
The Captain (The Pirate Planet)
He's a kind of space pirate, and he's got a robot parrot. That is all you need to know.
The Adipose (Partners In Crime)
The brilliant thing about the Adipose is they are perfect science fiction monsters. They eat your flesh! They wipe you out! Once triggered, they will destroy you in a hideously painful way! However, they're not unpleasant to look at, far from it, and somehow this makes them cute. Even though they are made of human fat and mushed-up bones and skin, draw a tubby face on it and you've got the cutest little critters ever to destroy a population.
K1 The Robot (Robot)
http://www.youtube.com/watch?feature=player_detailpage&v=L74LcanTAUY#t=41s
It's a robot. Then, after being shot with a disintegrator gun, it becomes a REALLY BIG ROBOT, one that takes a fancy to Sarah Jane Smith and acts out a King Kong moment with her on a building and UNIT trying to shoot him to bits. As he's a robot, this is less than effective, but the Doctor shrinks him down to a tiny size then dissolves him. Aw.
The Editor (The Long Game)
Another adventure in which the Doctor encounters a deadly future version of something which is benign at the moment. Amid the paraphanalia of a satellite TV, er, satellite, and underneath the ceiling meat-snot with teeth, better known as The Mighty Jagrafress of the Holy Hadrajassic Maxaraddenfoe, is the Editor, a human with a nasty need for knowledge. Yeah! Scary TV Editors! Brr!
The Wire (The Idiot's Lantern)
This one is even WORSE. Scary TVs! That steal your face! Using the face of a BBC announcer, in the '50s, when TVs had only just started to become popular! I tell you, if this was a real story, the corporation wouldn't have lasted long enough to MAKE Doctor Who.
The Master of the Land of Fiction
Another scary media monster, this. We never find out what this fella's real name is. All we know is that he's a human writer from the year 1926, and the creator of The Adventures of Captain Jack Harkaway for a magazine called The Ensign. Then he found his way into the Land of Fiction, and was forced to write stories for anyone who came to visit. Stories that come true, and are weird.
OK, over to you, who else deserves to be in the Odd Squad?
Read More
Filed Under: