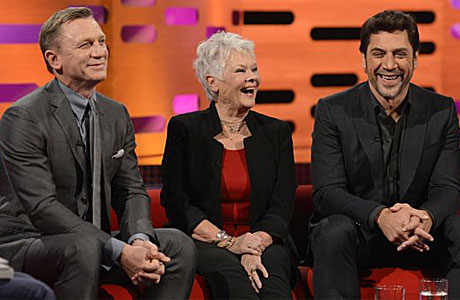 Let's face it, any quote from Daniel Craig taken from The Graham Norton Show is likely to be a) highly charged and b) memorable, although that one does play to a certain demographic of Bond fans.
This week's UK show has a Skyfall triple bill of guests, with Daniel taking his place alongside Dame Judi Dench and Javier Bardem to discuss 50 years of Bond, and their particular roles in the franchise.
For example, Daniel revealed that he wasn't sure about taking on the role at first,"I was very reluctant to say yes to Bond. I couldn't understand why I was being asked. It was off my radar. It was a very nice offer but I thought they had the wrong guy. They were quite persistent."
And the reason for their persistence only becomes clear as he retells the tale of his audition: "I had to do an all-day screen test. You have to do a scene from From Russia with Love. It was nerve-wracking, but I did that and then I had to take my shirt off for some odd reason – I don't know what that was about!"
Cue a certain amount of hysteria.
Not that Daniel is always beachwear ready, as he admitted under extensive probing from Graham: "I don't look like that all the time. I start training about six months before we start shooting. What's lucky is that we plan out the shirtless scenes quite carefully, so I can de-carb and all that boring stuff. The rest of the time I eat and drink what I want and just try to stay in shape."
And it seems Daniels starring role in the opening ceremony of the London Games wasn't a common topic of conversation among his castmates either. Dame Judi complained: "He never let on. He didn't say a word."
Mind you, that might be because Daniel was worried it was just an elaborate prank: "Danny Boyle told me what he wanted to do and I almost walked out because I really thought he was just pulling my leg… the next thing I know I was at the palace. I didn't think they would get the OK from the palace, but apparently they got that first and then asked me, so I didn't have much choice!"
But we began this blog post on a saucy note, and we will end with one, from an unexpected source.
When asked whether she enjoyed being the stern M, perpetually bringing the roguish Bond to heel, Dame Judi replied: "You bet. I love keeping naughty boys in order."
Cue the hysteria again.
The Graham Norton Show returns to BBC America on Saturday October 27 at 10/11c. The Bond special will air a week later.
Read More
Filed Under: