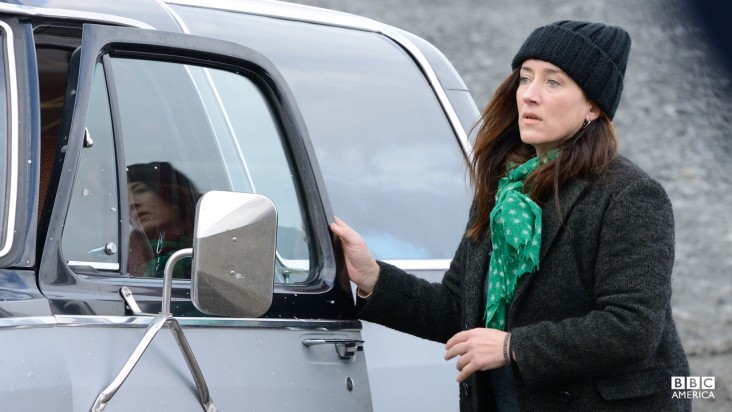 Maria Doyle Kennedy — The Tudors' Queen Katherine of Aragon and Bates' detestable and now-deceased wife on Downton Abbey — is just one of the actors who've joined the cast of BBC AMERICA's Orphan Black, an original 10-part drama that has started production in Toronto. The news follows the announcement that actress Tatiana Maslany has been cast in the lead role as Sarah, a street-smart orphan whose life changes drastically when she assumes the life of a suicide victim who looks just like her. After draining the woman's funds, she stumbles upon a huge revelation: she and her dead lookalike are clones. As she searches for answers, she must evade an assassin on her trail.
Dylan Bruce (As the World Turns), Jordan Gavaris (Degrassi), Kevin Hanchard (The Listener), Michael Mando (Territories), and Ron Lea (Saving Hope) have also signed on to the series, which is set for an early 2013 launch. Being Erica's Ivan Scheenberg and David Fortier are on board as executive producers, alongside co-creators Graeme Manson (Cube, Flashpoint) and John Fawcett (Spartacus, The Secret Circle).
"We're very excited to be working with Graeme and John on bringing Orphan Black to the screen," says Fortier, Executive Producer and Co-President, Temple Street Productions."It's become a passion project that just happens to touch upon the very timely topic of self-identity. When we began working on this series, we were driven by the quality of the writing and the scope of the themes."
Ivan Schneeberg, Executive Producer and Co-President, Temple Street Productions, adds: "Now we have a formidable cast, led by the unbelievably talented Tatiana Maslany, three terrific partners in BBC AMERICA, SPACE, and BBC Worldwide, and a fantastic crew, whose commitment and enthusiasm are confirming our long-held belief that we have something special on our hands. We couldn't be happier or more proud."
Perry Simon, General Manager, Channels, BBC Worldwide America, chimes in: "Orphan Black is a breakthrough show, creatively and technologically. We're thrilled with the talented cast Temple Street Productions has assembled led by extraordinary young actress Tatiana Maslany. We can't wait to launch this edge-of-your-seat thrill ride series."
BBC AMERICA's first original drama series, Copper, has just completed its first season and has been commissioned for a second.
What do you think of the cast additions for Orphan Black?
Read More
Filed Under: