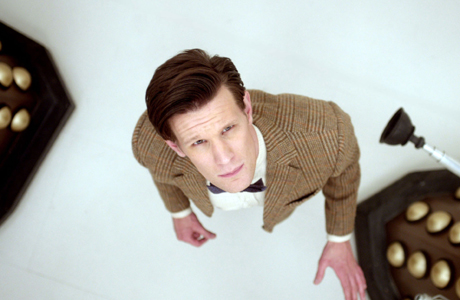 The TARDIS has traveled all of time and space, but it has never landed on the cover of TV Guide. But that could change. BBC AMERICA's Doctor Who has been nominated in the magazine's annual Fan Favorites Cover Poll. If the nearly 50-year-old British series wins, it will join such iconic classic shows as I Love Lucy, The Mary Tyler Moore, The Cosby Show, and Friends on the front of one of the most American newsstand titles. (Let's make history, Whovians. Cast your ballots for Doctor Who frequently until polls officially close on Monday, October 29 at 3 am ET.)
But why is Doctor Who singularly deserving of this honor? We took to Facebook and Twitter to capture your opinions on the matter, and here's what you very eloquently said:
David Strachan: "How about because the show has been going since 1963? Yep and it's more popular than ever."
David Dunaj: "The Doctor has long passed cult status. He's an institution now."
Minnesota E.: "I think the #1 reason why Doctor Who should be on the cover of TV Guide is because of the community it has created and maintained. Just like I Love Lucy or The Cosby Show, Doctor Who has brought and is bringing people together. We watch shows together; quiz each other; get into deep, universe shattering, discussions about little details with each other; sob together when it's sad; laugh together when it's funny; and hold tight to each other when it's scary.
"And thanks to 'wibbly wobbly, timey wimey' stuff we can do all that whether we're actually together or just mentally together. I mean, for me personally, when I find another Whovian or get somebody addicted to Doctor Who, it makes me so happy because I found another person like me. Someone who dreams of visiting other planets, who is always watching and listening for the Doctor, and who actually gets my references. Doctor Who has created a close knit community of people who otherwise may never have met. And that, I think, is very important."
DGVanB: "Doctor Who has more than earned the right to be on the cover of TV Guide…As others here have pointed out, it is the longest-running sci-fi television show, and it also is one of the longest-running TV shows of any type.
"[Being] shown on BBC AMERICA has help the show to become more popular in the U.S. than ever before. You also see Doctor Who references pop up in other U.S. made TV programs; this in itself makes Doctor Who's impact… felt beyond its own niche. This should be recognized."
Ruth Meyer: "This show has delighted audiences both young and old for generations. It's a grand tradition in television, one I hope will continue for many years hence. Doctor Who keeps watchers on their toes while teaching them about being observant, patient, and understanding. It's one of the best shows on the air!"
Maelan Stanford: "Doctor Who highlights every good, bad, and ugly thing about being human while taking you from one end of the universe to the other and sometimes outside of it. It can make you laugh, cry, hide behind a pillow, or sit on the edge of your seat. Sometimes all at once. It gives you a reason to fear ordinary things (like angel statues and shadows), and sometimes you don't know what just happened, but you know it made you really, really happy. Doctor Who lets you live without even leaving your room. I love Doctor Who, and I think it is THE best show ever."
Rebecca Comunale: "Because the casting, storyline, and overall dynamic of the show are absolutely brilliant. There is nothing like it on TV. Matt Smith burrows into the depths of your heart and soul and gives this amazing feeling of hope and adventure."
Linnea Michel: "Because Doctor Who is what TV should be—exciting, thought-provoking, exhilarating!"
Kay Dickinson: "The Doctor appearing on the front cover is a fixed point in time and space! If this ceases to happen, it will cause a rift in the time/space continuum causing a catastrophic event that will shatter every dimension in the universe! We cannot let this happen!"
Amy Wood Reindl: "Why, it's very simple. Doctor Who should be on the cover because bow ties are cool."
Julie Elder: "Because it's about time. (See what I did there?)"
What other reasons can you provide? Tell us below:
Read More
Filed Under: