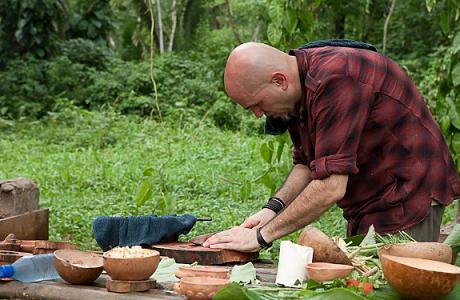 Are you a master in the kitchen? Or, more of an armchair chef content watching? Either way, you'll be delighted to know iTunes is offering free and discounted episodes of food series aired on BBC America as part of the Summer of London Celebration. Be sure not to make an amateur move and watch any of the episodes on an empty stomach! If in London this summer swing by The Ledbury for some fine dining featured in Summer of London: Places and Sights. In the mean-time, don't miss Jamie Oliver's Revolution as he takes on the American cafeteria system which premieres on Tuesday, July 10, 9/8c. Check out some of the food-related episodes iTunes has to offer:
1.) No Kitchen Required, Series Premiere
NKR is a perfect breed of television that speaks to both men and women with the exhilarating pace of Amazing Race; the skilled mastery of Top Chef; and the wild of Survivor. The BBC America original program features three world-class chefs leaving the comfort of their kitchens, battling the elements of the outdoors, hunting for their own ingredients, while cooking in primitive conditions. The judges are the native tribal hosts.
2.) Gordon Ramsay's the F-Word, Season 5, Episode 5
The F-word in this case stands for … food … of course! Ramsay is joined by the best local UK restaurateurs who prepare a three-course meal for 50 diners using recipes that anyone can cook at home. When Gordon checks out Simply Thai, one of the Thai restaurants competing to be The F-Words Best Local Restaurant, he discovers a Thai "female Gordon Ramsay." If you can imagine?! The ladies of Yum Yum restaurant in North London take on the feisty females from Simply Thai restaurant in Middlesex.
3.) Gordon Ramsay's Great Escape, Season 2, Episode 2
Exploring new culinary experiences, Ramsay sets out to submerge himself in all aspects of the culture – new to him – no matter how challenging, unfamiliar or extreme. In Cambodia, Gordon must wade waist deep in a river full of snakes to catch his dinner! But he's rewarded with a fantastic traditional Cambodian recipe for stuffed frog. He shows us a softer side coming across as pleasant, playful and sometimes even humbled.
Are you any good in the kitchen??
Read More
Filed Under: