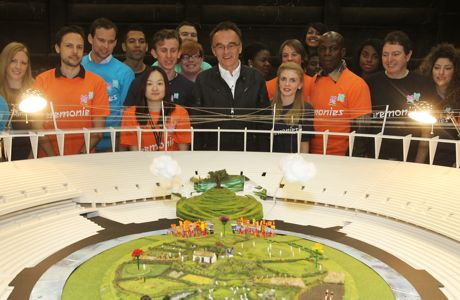 Just as Olympic athletes go for the gold, so the producers of the Olympics opening ceremony go for the spectacle. Big is better. There's safety in numbers. Wow 'em, wow 'em and wow 'em.
British filmmaker Danny Boyle is the man behind the opening night Olympic extravaganza, which takes place tonight (Friday, July 27) in London.
The show is entitled "Isles of Wonder." Boyle has said it is inspired by Shakespeare's The Tempest and will include various British themes and references. And, oh yes, nurses from the National Health Service.
The ceremony will start at 9 p.m. London time at the newly built Olympic Stadium, though it will air in the U.S. on NBC beginning at 7:30 p.m. Eastern time. Some three hours later, after all the spectacle and the parade of athletes from 204 nations, it will end with the traditional lighting of the Olympic flame.
Boyle, who was born in Manchester, is best known as the director of the Oscar-winning Slumdog Millionaire. His other films include Trainspotting and 28 Days Later. He's also a stage director: last year, he directed the National Theatre's production of Frankenstein, starring Benedict Cumberbatch.
The 55-year-old Boyle has said that he is hoping to create a "live film" happening.
"The way you experience it on television will feel, I hope, much more immediate and visceral than you normally get. And there'll be more close-ups, for instance, which is a way of conveying emotion," he said in an interview on NBC's Today show.
Boyle is promising to recreate the British countryside and people it with a cast of thousands, many of them volunteers. British themes will abound, as will references to UK landmarks, and expect references to the Beatles (with a possible appearance by Sir Paul McCartney), Voldemort and Mary Poppins.
Boyle has said he hopes that the show will create "a picture of ourselves as a nation."
Also to be featured: 12 horses, three cows, two goats, 10 chickens, 10 ducks, nine geese, 70 sheep and three sheepdogs. Don't worry – according to the Guardian, Doyle has promised animal activists that the creatures will all be well treated.)
There will be a live audience of 80,000 watching in the stadium, plus a billion viewers globally.
The cost of all this? The total for the London opening ceremony has been estimated to be more than $42 million, an austerity budget when compared to the nearly three times that amount spent on the opening ceremony at the 2008 Beijing Olympics. The Beijing ceremony was also overseen by a film director, Zhang Yimou, who is best known for the movies Hero and House of Flying Dragons.
—————————-
Will you be watching the opening ceremony?
—————————-
Read More
Filed Under: