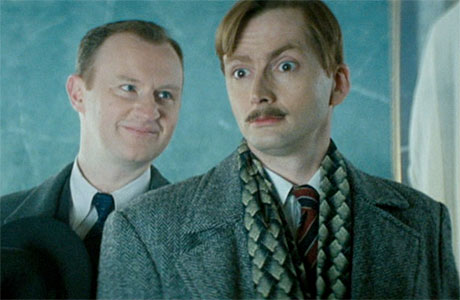 Note: Two problems. Everything David Tennant ever did ever appears to be on YouTube, and the space here is limited. So we're going to break this into two sections. Part 1 is Pre-Doctor, Part 2 is After Gallifrey.
Let's begin, the year is 1987, and a youthful aspiring teen actor has been cast in a public information film about smoking. It's not a high budget affair, but by golly it's a start:
A year later, and he's back, in a one-off TV drama The Secret of Croftmore for Scots TV channel STV, as part of their Dramarama series (here's the WHOLE THING). Then there's a gap of some four years, before he makes his return, playing a painfully fresh-faced policeman in the comedy pilot Bunch of Five (around the 5:30 mark):
And a year after that, this remarkable thing happened (in Rab C Nesbitt):
Here's young David auditioning for the part of a hospital radio DJ in 1994's Takin' Over The Asylum:
And here he is after he got the part, rocking a floppy Hugh Grant 'do:
A year later, and it's The Tales of Para Handy, with Gregor Fisher (Rab C Nesbitt himself) again). David's in from 3:45:
That same year, and the true jobbing actor's rite of passage in British TV, playing a villain on The Bill:
WHAT is going on with that hair now? Here's A Mug's Game from 1996:
Luckily he got a little tidier with the series Duck Patrol, a couple of years later:
Come the new millennium, and David can be found dismissing script ideas in Being Considered:
http://www.youtube.com/watch?v=-RbxXhPeZhA
And on the other side of the audition arena in the semi-improvised mock-documentary People Like Us:
Stephen Fry's directorial debut in 2003, Bright Young Things, saw our Dave playing the pompous English ninny with astonishing aplomb:
In 2004 he made this short (and wordless) film, Traffic Warden:
A little bit of costume drama – a squirmy turn in 2004's He Knew He Was Right – to flesh out the resume nicely…
And now we're dabbling in some colorful noir-ish detective hanky-panky, Blackpool-style.
Did I mention costume drama? Time to drop the motherlode. Here's Casanova, the very thing Russell T Davies did before he resurrected Doctor Who, and the thing which raised David's profile skywards:
Oh and while we're putting the Who pieces together, here's The Quatermass Experiment, also starring Mark Gatiss:
A little diversion, via a certain school of magic and wizardry:
A little philosophy, courtesy of 2006's docudramamentry The Romantics:
And finally, let's go out with a bang (knowwharrimean?). Here's a little smut, courtesy of The Chatterley Affair, from that same year (NSFW):
Read More
Filed Under: