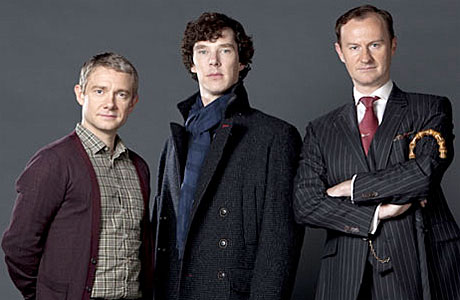 Now here's a conundrum I hadn't fully considered before. Mark Gatiss, the co-creator of the current, Benedict Cumberbatched revival of the Sherlock Holmes stories, has put forward an intruiguing thought about Mycroft Holmes. As you'll know, Mycroft is Sherlock's brother, a brilliant man, deeply involved in the government and quite the player, as modern slang would have it.
In contrast, Sherlock is brilliant, clearly the better brother at deduction, but flawed as a human and less good at manipulating people. So, as the on-screen manifestation of Mycroft, and the man who puts the words in to both of their mouths, Mark's in a good place to be able to ask a few key questions about the brothers.
And so he has, in a webchat with PBS: "Why are the Holmes brothers the way they are? What are their parents like? Maybe we'll see one day. I'd like to find a way of showing, more than we have, that [Mycroft] is actually even cleverer than Sherlock."
However, if you're expecting flashbacks and a full disclosure of their childhood, you might have a bit of a wait: "Far better to leave things in everyone's imaginations. It's nice to give little hints here and there but never a full answer."
"We actually cut a bit from [A Study In Pink] which gave a bit too much away about the obvious frisson of animosity that exists between them. It's not there in the original stories. It comes entirely from Billy Wilder and Izzy Diamond's brilliant The Private Life of Sherlock Holmes and Christopher Lee's cold, disdainful Mycroft. If you haven't seen it – do!"
And apparently his appearance as Mycroft came about from a combination of factors in the making of the pilot episode; being on hand, having experience of the kind of character they wanted, and most of all, fooling the audience:
"Mycroft wasn't in the pilot. But when we came to rethinking and reshooting episode one it just sort of happened. I'd just auditioned to play Peter Mandelson in a TV film and we'd already discussed how reptilian and Mandelsonian we wanted Mycroft to be. We also saw a great chance to fool people into thinking I was Moriarty. And it worked!"
Which only leaves the key question hanging once again: which brother is actually the cleverest?
Well? Tell us here:
Read More
Filed Under: