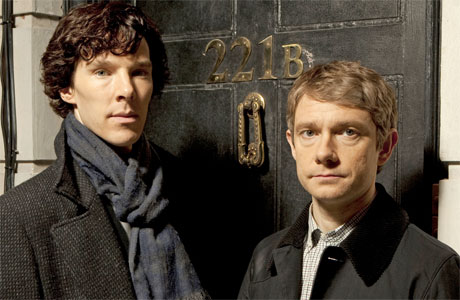 I know, I know, Sherlock season two hasn't even aired in the States yet (Sunday night, PBS, who's watching?) and the news stories are doing the rounds about the next lot, due on air in 2013. Particularly as series two ends with an extraordinary event and a LOT of unanswered questions.
Now, you should probably bookmark this story for three weeks, and come back to it when you've watched all three episodes of season two. I can't be held responsible for the extent to which the plot is spoiled just by reiterating something which is freely available elsewhere on the internet. But if you happen to have watched season two already (I won't ask how), you'll want to know how the next season begins.
Step forward, Mark Gatiss, who has been planning with Steven Moffat how to handle the sitation from the end of the last story, where John Watson believes Sherlock Holmes to be dead, to the beginning of the next, where he finds out what we already know, that he is not.
The Adventure of the Empty House will be the first story of the new season, because that is the story which Sir Arthur Conan Doyle wrote after The Final Problem, the story on which the third episode of season two, The Reichenbach Fall, was based. And in the book, Watson's reaction to Holmes's resurrection is to collapse.
This will never do, as Mark explained to the Press Association: "There's certain things about The Adventure of the Empty House which feel set in stone because that's how Sherlock comes back, but at the same time we feel free to invent and to introduce new stuff to it
"I always found it a little unlikely that Dr Watson's only reaction was to faint, for instance – as opposed to possibly a stream of terrible swear words," he told the Press Association.
As for which of the Holmes adventures will round out the season, he remains tight-lipped: "Everybody has their favourites, Steven and I have our all-time favourites, but it's really a question of what will fit into the structure. We're sort of guided by our idea for the overall feel of the next three stories."
Don't forget we'll be recapping the first episode of season two of Sherlock on Monday, but in the meantime, set your clocks, it's gonna be amazing.
Read More
Filed Under: