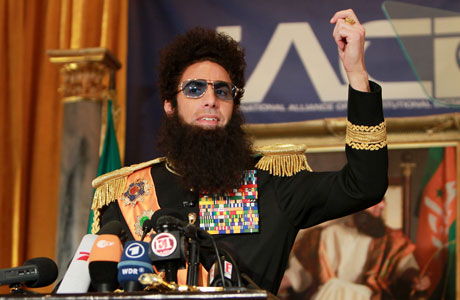 Sacha Baron Cohen managed to amuse journalists at a New York press conference on Monday where he appeared in character as "General Aladeen" – the tyrannical Middle Eastern leader he portrays in his new film The Dictator.
General Aladeen, who's from the fictional Republic of Wadiya, certainly had lots to say but most of it unprintable.
When questioned, Aladeen, who spoke in broken English, revealed what he'd been up to in New York.
He said: "I buying stuff for all the other dictators – that are banned from coming here – I went to Hermes and bought some luggage I went to Prada and bought 14 suits and two shopgirls!"
He also said he was doing some shopping for Kim Jung Un: "He is crazy about your Krispy Kremes – he asked me to get 20,000 crates he loves to stuff them in his mouth five at a time."
The press conference was a clever marketing device to promote The Dictator which opens next week. Representatives from dozens of high profile media outlets were in attendance. It should generate a lot of publicity for a venture that represents fresh territory for Sacha Baron Cohen. It's the first time he's starred in a film with a conventional script and professional cast. His Borat and Bruno films involved improvisation and reliance on real-life individuals as comic foils.
Read More
Filed Under: