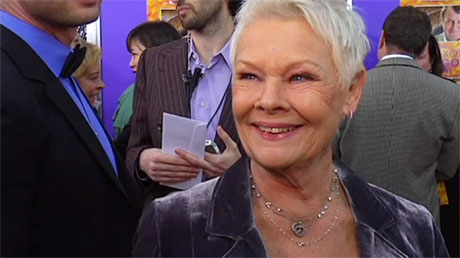 Dame Judi Dench was defiantly on message at the New York premiere of The Best Exotic Marigold Hotel (out today) only answering questions about that picture – and refusing to elaborate on the forthcoming Bond movie in which she appears, once again, as M.
When I asked her if M had a bigger role in the new film she said: "I can't tell you anything about M at all except that I finished last week."
When pressed she responded in jest saying: "You're so sly with your questions I should report you to the BBC!"
She did go on to say that she hugely enjoyed making the film.
What she wanted to talk about was her role in Marigold in which she plays one of a group of British retirees who end up in a ramshackle hotel in India.
Dame Judi respects the characters and their sense of adventure. She says: "I admire that all these people for very diverse reasons suddenly are prepared to face the challenge, find out something new about somewhere else and about themselves."
Dame Judi is part of a strong ensemble that includes Dame Maggie Smith, Tom Wilkinson, Bill Nighy and Dev Patel.
The film was shot on location in India – and what really impressed the actress was the country itself. She says: "I didn't particularly ever want to go to India, but now I'm completely overwhelmed, bewitched by it. I can't wait to go back. I'd go back tomorrow. I was blown away by it."
Read More
Filed Under: