Top Gear has received a special prize from the Rose d'Or festival in Switzerland. The 2012 Honorary Rose Award recognized the show's extraordinary global reach.
As Jeremy Clarkson accepted the honor, he quipped that "approximately seven million cars had to be destroyed to win this award."
On a panel at the festival, Clarkson and producer Andrew Wilman said that credit should go to the BBC for giving the hosts the time to develop their relationships.
"You can't rush it," said Clarkson. "Viewers can tell when that stuff is fake."
• Who is visiting Top Gear next week?
Yeah, that's what we said: Who is visiting Top Gear.
But, no, Who's not on first – that's the guy in the rocket-jet pack.
(Third base!)
Doctor Who's Matt Smith is next week's Star in a Reasonably Priced Car (premiering Monday May 21, 8:30p/7:30c).
The current Doctor has apparently never done any track driving before and says he wished he could have had some lessons. "Can I come on Top Gear twice?" he asks. "Maybe next time I'll be much better."
Also on Monday's show is another person who looks like he's out of a science fiction movie – a rocket-powered flying man, who races against a car. And Jeremy joins James May to take us on a memory-filled journey about Saab, the Swedish car maker that has just recently closed down for good.
• Where does all the stuff that gets rolled over, blown apart, demolished or obliterated on Top Gear go? Well, if it's metal, chances are it goes to the scrap metal salvage yard – along with other really, really big equipment that's too old to use anymore.
So it's appropriate that D&L Salvage in Louisiana is the destination for next week's Richard Hammond's Crash Course (premiering Monday, May 21 10p/9c).
Richard's challenge is to master the Link Belt Crane, with its powerful attachments, the Claw and the Electro-Magnet.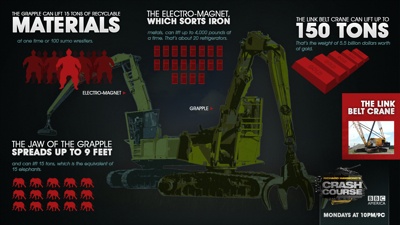 As you see from the graphic above, the Crane can lift up to 150 tons. It might be an idea that's hard to get your head around, but the jaws of the Crane's grapple can get their gnashing steel teeth around practically anything with their spread of nine feet.
To try to get another idea of this week's massive Crane, you might want to try your hand at our Sneak Peak Scramble.
• Perhaps it should come as no surprise that Richard Hammond got on well with his mentor last week. After all, Richard Lorenz doesn't just destroy things, he gets paid for it. He's a demolition professional. Blowing things up is his day job. Currently he's taking down the Rainforest Café, the Volcano and the Skyway at Disney World, and he just took down a building at Cape Canaveral.
The two Richards got along famously.
"Off camera, we were always goofing with each other, pulling little tricks on each other," Lorenz told BBC America. "We were like 'Mutt and Jeff' together."
• History (as in the cable channel) has signed on for a third season of the American version of Top Gear. Congrats to all, including hosts Adam Ferrara, Tanner Foust and Rutledge Wood. The past season, the show's second, had a viewership 25 percent up from the show's debut season, according to Variety.
Here's a clip of Tim Allen speaking with Rutledge Wood earlier this season:
• Just a reminder to cast your vote in the Rate My Ride contest.  (You can also feast your eyes on the honorable mentions gallery.) Winners will be announced on May 22.
• One of honorable mentions in the Rate My Ride contest has a Doctor Who connection. Dan H submitted his vintage 1981 DeLorean. And yes, that's Who star Arthur Darvill standing next to him: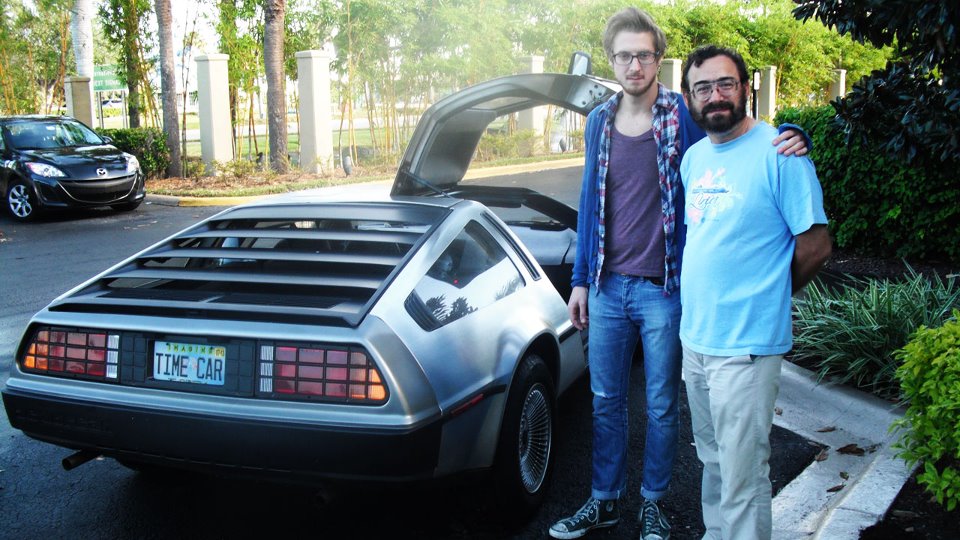 Read More
Filed Under: