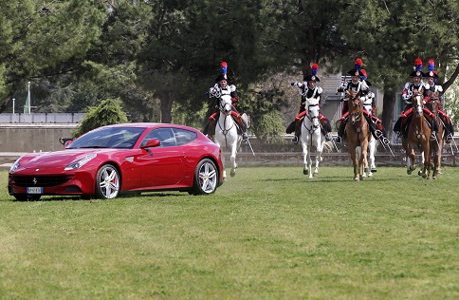 Horses are playing an important part in the Diamond Jubilee, but horsepower of the automotive sort has also played an important role throughout the Queen's 60 year reign. That role is being highlighted by Society of Motor Manufacturers and Traders (SMMT); the UK trade association is pointing out key motoring moments over the past six decades. Among them: the introduction of Britain's first diesel engine in 1954, the opening of the country's first stretch of motorway, the Preston by-pass (today part of the M6) in 1958, and the introduction of congestion pricing in London in 2003.
The SMMT also offered a reminder that the association had given the Queen a Rolls-Royce Phantom VI as a gift for her Silver Jubilee.
• Britain's Automobile Association will be trying to fight traffic at the Thames Diamond Jubilee Pageant on Sunday. The AA will provide 900 road signs and 5,000 cones. The head of the AA, appropriately named Edmund King, pointed out that his organization also helped with traffic management for the Queen's Coronation on on June 2, 1953, providing 490 signs and 50 patrols.
"The Automobile Association, established in 1905, has always been proud of its close association with the Queen and royal household," King said. (via This is Hampshire)
• More Jubilee-related car news: earlier this month, on the weekend of the Windsor horse pageant, Ferrari honored the Queen with a display of the Fourth Regiment of the Carabinieri, Italy's military police, on their famed Carosello Storico horses – along with some famed Italian Ferraris.
• In next week's Top Gear season finale, airing Monday June 4, 8:30p/7:30c, the guys try to see if they can apply the new rules of economic austerity to car racing. Specifically, they set out to answer the question: is it possible to pay less for a car race than for a game of golf?  Also, James May test drives a very rare car, a Ferrari 250 GT California:
And Formula 1 Finnish racing driver Kimi Räikkönen drops by for a special appearance to drive an old Reasonably Priced Car. Slash from Guns N' Roses drives a new one.
• Normally, we wouldn't think of putting Jeremy Clarkson and the idea of slowing down together in the same sentence. But a resident in the Northumberland village of West Mickey is using a facsimile of Clarkson – actually, a scarecrow version of Clarkson – to stop drivers from speeding. BBC News reports that Christopher Hodgkinson made the scarecrow with Clarkson's face and dressed him as a policeman holding a speed gun, which is, in reality, a hair dryer. Neighbors say it's working.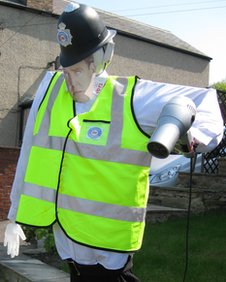 • Richard Hammond will be hosting a new show in Britain called The Secret Service, a Candid Camera-style prank show that is scheduled to air next year. Hammond will be teaming up again with his Total Wipeout producers, who said, "Whether you want to propose to your girlfriend, impress your teenage son or get back at your best mate – they'll complete your mission in the most absurd, extreme and ridiculous way they can." (via the Press Association)
Read More
Filed Under: