8. Jubilee-Inspired Merchandise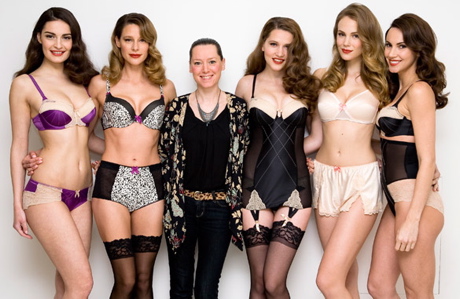 Last year's royal wedding generated an amazing array of merchandising – including Topps royal wedding cards, and Kate Middleton dolls – and it should come as no surprise that the Jubilee is also creating a juggernaut of royal related products.
According to the Centre for Retail Research, the double whammy of the Jubilee and the London Olympics is expected to bring an increase of £1.07 into the British economy. £307 million of that figure will be spent on souvenirs and memorabilia.
London's department stores are diving in.
For example, Harrods has Diamond Jubilee mugs, key rings, tea towels, clocks, trinket boxes, tote bags and a brightly colored Crown Fridge magnet for £4.95 – but buy one, get one free.  The Telegraph noted that the store has replaced its distinctive green canopies with Union Jacks, and placed 31 crowns, imagined by famous designers, in its windows, along with a replica of the young Elizabeth's coronation dress. Oh, and the store plays "God Save the Queen" through outdoor speakers every day at midday.
Marmite, that distinctive brown yeast-derived substance that Brits inexplicably adore, has a Jubilee edition called Ma'amite.
And you might want to take a look at the party accessories – everything from paper plates to Union Jack capes – that are being sold by Party Pieces, the company owned by the Duchess of Cambridge's parents, Michael and Carole Middleton. It doesn't sound likely that they'll actually be using any of their business's products next weekend, though: it turns out they've been invited, along with their non-royal kids, Pippa and Michael, to join their daughter and the in-laws on the royal barge for the pageant festivities on Sunday, according to the Mirror.
One product, sadly, that you won't be able to buy is Jubilade, a strawberry soda that was produced for the Queen's Silver Jubilee in 1977. However, an empty can kept by a collector will go on display in a gallery in Battersea as part of pageant celebration, said BBC News.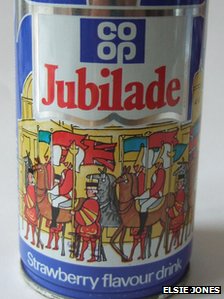 "Even at the age of 15 in 1977, I thought that a strawberry flavor drink was not perhaps the most regal souvenir," said Elsie Jones, who also kept a label from a can of Silver Jubilee mousse. "I can't remember what it tasted like, but it can't have been good."
To us, though, nothing says Jubilee like sexy underwear and push-up bras, and, blimey, Marks & Spencer seems to agree. In coming up with a line of limited edition Jubilee lingerie, writes Soozie Jenkinson on the store's website, she looked for inspiration from M & S styles that were popular 60 years ago. Judging from the results – see the featured photo at the top of this post – we can guess they'll still be popular today.
Maybe not quite so popular – but an item that nevertheless has attracted considerable media attention – is a product that might be of use for people affected by various aspects of conspicuous consumption. It's a Jubilee Sick Bag, designed by artist Lydia Leith. The bags, which come in red and blue, say "Bling it up" on them, along with the simple instruction to "Keep this handy in June." Leith attracted attention last year when she designed another sick bag for the royal wedding ("Throne up") so, given her entrepreneurial spirit, we imagine she's at work on a bag for the Olympics as well.
NEXT: The Royals Online and On-Air
Read More
Filed Under: