4. Knights of the Garter Service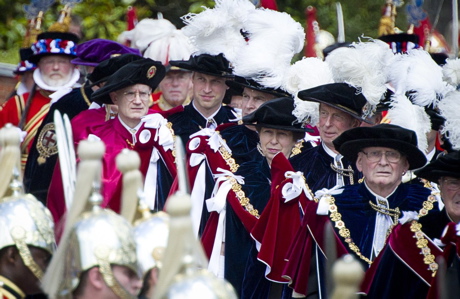 Another royal event this summer you might want to keep a lookout for, advises People's Simon Perry, follows on the heels of Trooping the Colour.
"A few days later, at the start of Ascot week, which sees the court decamp to Windsor Castle," Perry says, "there is the annual Knights of the Garter service at St. George's Chapel."
The Order of the Garter is England's highest chivalric order. It's believed to have been started by King Edward III in the fourteenth century. Its members – a small group, limited to 24 primary knights – are chosen by the monarch and inducted in the ceremony held on what is now called Garter Day, the Monday of Royal Ascot Week in June. "Watch out for William in feathery hat and cloak and Kate smiling from the sidelines alongside Camilla, the Duchess of Cornwall," Perry said.
Prince William became a Knight in 2008.
NEXT: The re-opened Kensington Palace
Read More
Filed Under: