3. Trooping the Colour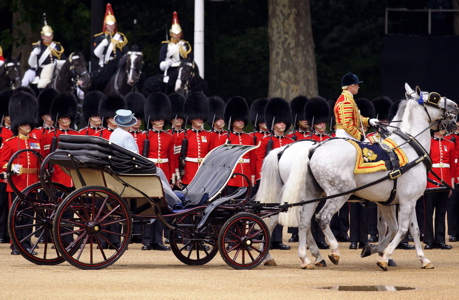 With all the celebrations this year, it feels as though every day is the Queen's birthday. She was actually born on April 21, but since 1748, the monarch's birthday is formally observed in an elaborate ceremony known as Trooping the Colour that now takes place in June. Until 1987, Elizabeth rode a horse at the event, but since then, she has ridden in a carriage instead.
Here she's seen, before she became Queen, at the Trooping the Colour pageant in  1951, attending in place of her father, King George VI,  who was ill:
While the Trooping the Colour normally celebrates and exudes sovereign stability, the ceremony – and the Queen herself – faced a serious threat in 1981. As the Queen rode her horse down the Mall, a 17-year-old man in the crowd aimed a gun and fired six shots at her – blanks, it turned out, but the noise was enough to spook Elizabeth's horse. The Queen, a skilled rider, regained control of the animal within seconds, but the incident brought the shooter a five-year prison sentence for treason.
Here's last year's Trooping the Colour ceremony, which went off without incident, as William himself rode in the procession honoring his grandmother:
NEXT: Knights of the Garter Service
Read More
Filed Under: