2. The Diamond Jubilee Weekend: Concert, Thanksgiving Service, and Carriage Procession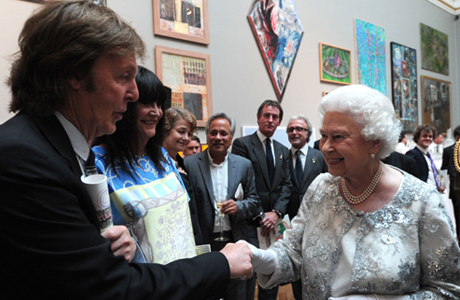 On Monday (June 4), the BBC is producing a star-studded Diamond Jubilee concert outdoors at Buckingham Palace. Musician and Take That member Gary Barlow, who is the gala's organizer, has brought together a wide ranging group of pop musicians, including Paul McCartney, Elton John, Shirley Bassey, Tom Jones, Kylie Minogue and Stevie Wonder.
"Let's hope William, Kate and Harry have their dancing shoes on," says royal watcher Perry, who also wonders whether Prince Harry will join the live performers on stage to recreate his in-studio contribution to the song Andrew Lloyd Webber composed for the occasion. "Will Harry be on stage to join in with the rendition of the specially-recorded Jubilee song on which he plays a tap or two on a tambourine?"
It's more than just a question of entertainment value, says Perry. Seeing members of the family's many generations together underscores the continuity and hereditary aspects of the monarchy, but the celebrations also serve the purpose, he says, of "bringing forward the newer, younger members such as Prince William, his wife Kate and Prince Harry and their cousins Princesses Beatrice and Eugenie."
"Much attention," Perry adds, "will be on these younger members, as is only natural, especially on the night of the pop concert."
Afterwards, at 10:30pm London time, the Queen will light a beacon – the last in a scheduled chain of more than 2000 beacon lightings that will take place throughout the UK and other Commonwealth countries.
On Tuesday, the Queen, joined by other members of the royal family, will attend a thanksgiving service at St. Paul's Cathedral, where a special Diamond Jubilee prayer will be read and a "Diamond Choir" of children will sing a song written for the occasion.
Throughout the weekend, William and Kate will be at Her Majesty's side.
The couple is, says Perry "going to be with the Queen every step of the way. They will be with her on the river and at the grand lunch in Westminster on Tuesday and of course on the balcony."
Yes, that balcony.
Tuesday afternoon, Will and Kate will accompany the Queen and Prince Philip in a carriage ride that retraces last year's wedding route, and members of the royal family will again gather on Buckingham Palace's balcony.
"Seeing the senior members of the royal family take to carriages and then watch a fly past of air force jets from the balcony," says Perry, "will bring back recent memories of another happy day at the palace – when all eyes were on William and Kate."
Read More
Filed Under: