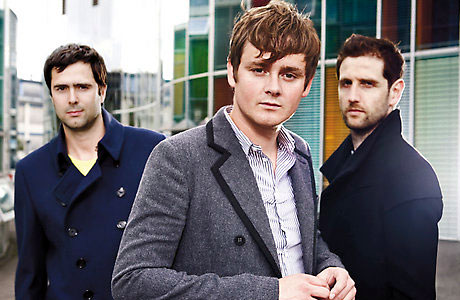 Something has happened in the Keane camp. They've been on a bit of an experimental journey, redefined their sound, made few new friends, and decided to come back with a new album, Strangeland, which is packed with the kind of anthemic pop songs they started their career biffing out, only better, and more confident.
So, as they seem to be suddenly very sure about who they are and what they do, here's a little recap of who they have been and what they have done to date.
1: Everybody's Changing
http://www.youtube.com/watch?v=ZcQmt171-80&feature=fvwrel
This comes out of a time in the band's development when they were struggling to keep themselves afloat. Their former singer and guitarist Dominic Scott left, all around them friends started careers and this teen dream of having a hit record seemed to be vanishing before their very eyes. And then Tim Rice-Oxley realized there was enough sonic oomph coming from his effects-laden piano to allow them to trim down to a three-piece, and they wrote a song about feeling stuck in a rut. This was then, ironically enough, seized upon as a single, and became the catalyst for their early success.
2: Somewhere Only We Know
Between the years 2005 and 2008, it must have sometimes felt as though there was only one song available for US drama shows when they wanted to convey a sense of mournfully optimistic determination: the kind of thing where a character looks over the mistakes they've made and resolves to live a better life from then on. It was used in everything from movie trails to Grey's Anatomy, from Life to American Idol. There's clearly a reason for this.
3: Is It Any Wonder?
Time for a bit of sterling rock action from the newly road-hardened trio. OK, "rock action" may be a relative term, but Tom Chaplin's wounded bleat of a voice is rarely better used than at the helm of a pounding monolith of melody like this.
4: Spiralling
The band's Bowie moment, when piano anthems took a (relative) back seat to angular electropop. This is the song that people who claim to never like Keane are relatively happy to admit enjoying. Note the reluctant language there: hating Keane became something of a national obsession in Britain for a while there. Once you've got Noel AND Liam Gallagher's backs up, you've got no chance, except to proceed with quiet dignity (Tim, Richard). Or go a bit bonkers and whizz off to rehab (Tom).
5: Stop For A Minute

Taken from the relatively-overlooked "Night Train" EP, this song pushed the band into a funkier direction, a collaboration with the Somali Canadian singer/rapper K'naan, and proof to sniffy UK critics that they are eminently capable of doing more than rousing an audience to melodic bliss. This, for example, is almost angry. Imagine!
OK, so what did we miss? Tell us here, starting your entries with "Any list that leaves out 'Bedshaped' isn't worth making in the first place" and ending with "do your research!"
Read More
Filed Under: