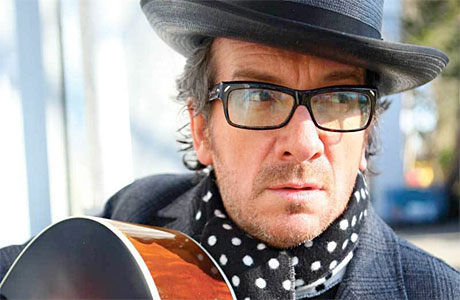 We already looked at five British songs in praise of the US of A on Monday, so, purely in the interests of balance, and without meaning to start a global musical conflict (although I for one would welcome some new songs that are not about The Club), here are five songs expressing the opposite point of view.
Sorry in advance, please don't send the Marines in etc…
"America" – The Nice
1968 was the year of sarcastic reinterpretations of otherwise fairly straightforward pieces of music. Jimi Hendrix had started performing a feedback-drenched cover of "The Star-Spangled Banner" in his live sets (it was well-established by the time he appeared at Woodstock in August 1969), and the Bonzo Dog Band were lambasting every type of music they could conceivably perform, so it wasn't that big a stretch for Keith Emerson (the chap with the massive organ) to consider a freakbeat, amped up interpretation of Leonard Bernstein's "America" as an instrumental protest song against the Vietnam War. Oh sorry, did I say instrumental? That ignores the contribution at the end, that little "America is pregnant with promise and anticipation but is murdered by the hand of the inevitable" bit.
Yeah, that's not a line you could get away with these days.
"I'm So Bored With The USA" – The Clash
http://www.youtube.com/watch?feature=endscreen&NR=1&v=DlIa6eAJxUM
They got over it pretty quickly, didn't they? This song began life as a girl-baiting slice of '70s rock, written by Mick Jones and called "I'm So Bored With You," but pepped up with a bit of anti US vitriol from his band's new singer, Joe Strummer. The pair went on to forge such a strong affinity with American music they couldn't fit it all onto one album, releasing first the astonishing double "London Calling" and the scattershot triple "Sandinista!" in very quick succession. My teacher used to say that only boring people are bored. How wrong she was.
"New Amsterdam" – Elvis Costello
http://www.youtube.com/watch?v=XZFcHF-wjBA
Never a man to use one word where an entire rhyming thesaurus would do, it's not immediately clear who is being told off in this folky finger-jab from rock's Mr Objectionable. It turns out it's New York, for not making him feel more at home. Or to be kinder about what is after all, a rather sweet song, it's about feeling homesick and culture-shocked while working in New York, hence "back in London they'll take you to heart after a little while. Though I look right at home I still feel like an exile" and all the stuff about speaking double-dutch to a real double-dutchess (who, if she is not the city itself, must be Lady Liberty).
"Heartland" – The The
http://www.youtube.com/watch?v=cHzOG4mJ0PA
The 1980s were an era in which the forces of global capitalism really saddled up and started to ride the range. And much to the chagrin of sensitive singer-songwriters like The The's Matt Johnson, high streets started to homogenise while age-old class divisions were left to fester. And, partly because of the strong relationship between our right wing leader Margaret Thatcher and your right-wing leader Ronald Reagan, a good portion of the blame for this state of affairs was aimed across the Atlantic. "This is the 51st state of USA," sang a disillusioned Matt, in his pristine Levi 501s, while playing a Gibson guitar, with blues harp accompaniment. Don't take it to heart, this one is more about us than you.
Whereas…
"America Is Not The World" – Morrissey
Believe it or not, Morrissey was once considered a very witty lyricist. How on Earth we got from "This Charming Man" to "you big fat pig" is beyond me, but there we are. He clearly things this is a simple truth, clearly expressed. I think he's trolling, and using gross stereotypes in order to do so. Still at least we got that black President thing out of the way, eh? And he does say he loves you at the end.
Now it's your turn: "OMG I CAN'T BELIEVE YOU MISSED OUT "HOLLYWOOD" BY MARINA AND THE DIAMONDS" etc.
Read More
Filed Under: