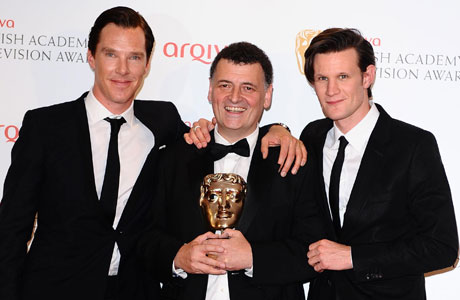 Last night, Steven Moffat picked up the Dennis Potter special trophy at the BAFTA Television awards, for services to writing extremely good TV shows. We all know about Doctor Who and Sherlock, but what about his other work? What else has he been doing all this time, hmmm?
Here's a Top 5, they are ALL recommended:
Press Gang (1989 – 1993)
See that Julia Sawalha in Absolutely Fabulous? You can thank Steven for her presence, thanks to her stern role in this hit teen drama, based around a youth newspaper.
Joking Apart (1991 – 1995)
A series of comically cautionary tales, revolving around a stand-up comedian, and his trouble with etiquette in the world of modern life and dating. It's like Seinfeld, only ruder.
Coupling (2000 – 2004)
See that Jack Davenport in those Pirates of the Caribbean films? You can thank Steven for his presence, thanks to his patrician presence in this hit comedy. Note the Doctor Who reference, even then.
Jekyll (2007)
It'd be tempting to see this as a warm-up for Sherlock, given that it's another dark tale from classic literature given a modern setting, and benefitting hugely from some inspired casting. But let's not damn Jekyll with faint praise, not unless you want a visit from his alter-ego Mr Hyde.
The Adventures of Tintin: Secret of the Unicorn (2011)
Speaking of which, Sherlock isn't the only detective from classic literature that Steven's had a hand in adapting. Working alongside Joe Cornish and Edgar Wright (Attack the Block and Shaun of the Dead, respectively), he wrote the screenplay for this big screen motion capture reworking of the Belgian comic bookish Herge's most famous creation.
Now, let's look at that acceptance speech again, shall we?
Read More
Filed Under: