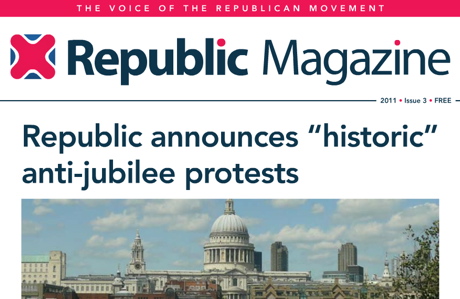 You might think that for anti-monarchists the Jubilee would be a total nightmare.
You'd be wrong.
In fact, you might say that republicans are downright jubilant, considering the occasion an opportunity to build and organize support. (Remember, when we talk about "republicans" in the UK and the Commonwealth, they're not the folks who want to cut taxes, they're the ones who want to get rid of the monarchy altogether.)  Republic, the UK's leading organization opposed to the monarchy, is planning what it calls "historic" protests during the Jubilee. The group claims that its demonstration in central London during the flotilla pageant on June 3 will be "the biggest anti-monarchy protest in living memory."
The demonstration, says Republic, will be "in full view of the royal barge as the Queen and other royals disembark to watch the pageant pass through Tower Bridge."
Graham Smith, Republic's chief executive, said in a press release that the protest would be "loud, bold and provocative." But, speaking to the Daily Beast's Royalist, he also tried to put a kinder and gentler face on the republican opposition, which clearly has an uphill battle fighting a weekend of communal partying and an extra day off.
"It's an opportunity to dispel some of the myths about Republicanism," Smith said. "It's going to be a fun, family-friendly event with a serious message."
But is the UK getting that message? The Guardian reported that its most recent polling finds that 69% of Britons say the country would be worse off without the monarchy, while only 22% say it would be better off. The Guardian said that margin of royalist support in last week's poll was larger than in any of the 12 surveys the paper has taken since 1997.
On the other hand, Republic says that all the attention from the royal wedding and the Jubilee have caused steep increases in its membership rolls and fundraising over the past 18 months.
Yet while even a devoted royalist like The Daily Beast's Tom Sykes concedes that republicans have the most compelling intellectual arguments, that may not make the slightest difference.
"The problem for British Republicans is exactly that everything they say makes perfect sense, and yet here we are," writes Sykes. "There is, as we all know full well, not one decent, logical, morally-sound argument for the retention of the Royal family in the 21st century."
"But," he concludes, "we love the Queen anyway."
Read More
Filed Under: