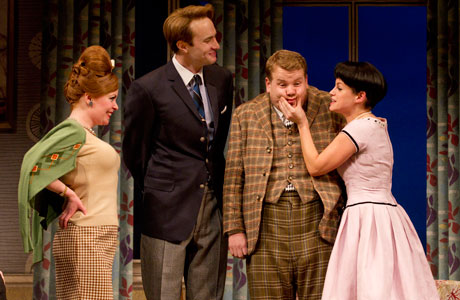 British funnyman James Corden, Smithy from Gavin & Stacey and Craig Owens from Doctor Who, woke up this morning (May 1) a Tony nominee for his performance in the Broadway comedy One Man, Two Guvnors. He's up for Best Actor in a Play, a tough category that finds him competing against Philip Seymour Hoffman (Death of a Salesman), James Earl Jones (Gore Vidal's The Best Man), Frank Langella (Man and Boy), and John Lithgow (The Columnist). Corden's status as the favorite to win in this field speaks to how feverishly he and this London-born production have been embraced stateside.
One Man, Two Guvnors received seven total nominations. Corden's co-star Tom Edden is nominated for Best Featured Actor, and the score, direction, scenic design, costume design, and sound design were also recognized.
In our interview with Corden last week, the actor waved off all of the Tony buzz surrounding his breakout performance:
The Broadway musical adaptation of the film Once tops this year's Tony field with 11 nominations. In March, we spoke to the original film's stars, Irishman Glen Hansard and Czech-born Marketa Irglova, who both seemed quite pleased with how their work had been changed for the stage.
Some notable Brits up for Tonys this year include Coronation Street star Tracie Bennett, who's been knocking socks off playing Judy Garland in End of the Rainbow. And Spider-Man Andrew Garfield has netted a Featured Actor nod for his role as Biff in Death of a Salesman. Here's the full list of nominees:
Best Play
Clybourne Park
Author: Bruce Norris
Producers: Jujamcyn Theaters, Jane Bergère, Roger Berlind/Quintet Productions, Eric Falkenstein/Dan Frishwasser, Ruth Hendel/Harris Karma Productions, JTG Theatricals, Daryl Roth, Jon B. Platt, Center Theatre Group, Lincoln Center Theater, Playwrights Horizons
Other Desert Cities
Author: Jon Robin Baitz
Producers: Lincoln Center Theater, André Bishop, Bernard Gersten, Bob Boyett
Peter and the Starcatcher
Author: Rick Elice
Producers: Nancy Nagel Gibbs, Greg Schaffert, Eva Price, Tom Smedes, Disney Theatrical Productions, Suzan & Ken Wirth/DeBartolo Miggs, Catherine Schreiber/Daveed Frazier & Mark Thompson, Jack Lane, Jane Dubin, Allan S. Gordon/Adam S. Gordon, Baer & Casserly/Nathan Vernon, Rich Affanato/Peter Stern, Brunish & Trinchero/Laura Little Productions, Larry Hirschhorn/Hummel & Greene, Jamie deRoy & Probo Prods./Radio Mouse Ent., Hugh Hysell/Freedberg & Dale, New York Theatre Workshop
Venus in Fur
Author: David Ives
Producers: Manhattan Theatre Club, Lynne Meadow, Barry Grove, Jon B. Platt, Scott Landis, Classic Stage Company
Best Musical
Leap of Faith
Producers: Michael Manheim, James D. Stern, Douglas L. Meyer, Marc Routh, Richard Frankel, Tom Viertel, Steven Baruch, Annette Niemtzow, Daryl Roth, Robert G. Bartner, Steven and Shanna Silva, Endgame Entertainment, Patricia Monaco, Debi Coleman, Dancap Productions, Inc., Steve Kaplan, Relativity Media, LLC, Rich/Caudwell, Center Theatre Group, Michael Palitz, Richard J. Stern, Melissa Pinsly/Celine Rosenthal, Independent Presenters Network, Diana Buckhantz, Pamela Cooper, Vera Guerin, Leading Investment Co., Ltd., Christina Papagjika, Victor Syrmis, Semlitz/Glaser Productions, Jujamcyn Theaters
Newsies
Producers: Disney Theatrical Productions, Thomas Schumacher
Nice Work If You Can Get It
Producers: Scott Landis, Roger Berlind, Sonia Friedman Productions, Roy Furman, Standing CO Vation, Candy Spelling, Freddy DeMann, Ronald Frankel, Harold Newman, Jon B. Platt, Raise the Roof 8, Takonkiet Viravan, William Berlind/Ed Burke, Carole L. Haber/Susan Carusi, Buddy and Barbara Freitag/Sanford Robertson, Jim Herbert/Under the Wire, Emanuel Azenberg, The Shubert Organization
Once
Producers: Barbara Broccoli, John N. Hart, Jr., Patrick Milling Smith, Frederick Zollo, Brian Carmody, Michael G. Wilson, Orin Wolf, The Shubert Organization, Robert Cole, New York Theatre Workshop
Best Revival of a Play
Arthur Miller's Death of a Salesman
Producers: Scott Rudin, Stuart Thompson, Jon B. Platt, Columbia Pictures, Jean Doumanian, Merritt Forrest Baer, Roger Berlind, Scott M. Delman, Sonia Friedman Productions, Ruth Hendel, Carl Moellenberg, Scott & Brian Zeilinger, Eli Bush
Gore Vidal's The Best Man
Producers: Jeffrey Richards, Jerry Frankel, INFINITY Stages, Universal Pictures Stage Productions, Barbara Manocherian/ Michael Palitz, Kathleen K. Johnson, Andy Sandberg, Ken Mahoney/The Broadway Consortium, Fifty Church Street Productions, Larry Hirschhorn/Bennu Productions, Patty Baker, Paul Boskind and Martian Entertainment, Wendy Federman, Mark S. Golub & David S. Golub, Cricket Hooper Jiranek, Stewart F. Lane & Bonnie Comley, Carl Moellenberg, Harold Thau, Will Trice
Master Class
Producers: Manhattan Theatre Club, Lynne Meadow, Barry Grove, Max Cooper, Maberry Theatricals, Marks-Moore-Turnbull Group, Ted Snowdon
Wit
Producers: Manhattan Theatre Club, Lynne Meadow, Barry Grove
Best Revival of a Musical
Evita
Producers: Hal Luftig, Scott Sanders Productions, Roy Furman, Yasuhiro Kawana, Allan S. Gordon/Adam S. Gordon, James L. Nederlander, Terry Allen Kramer, Gutterman Fuld Chernoff/Pittsburgh CLO, Thousand Stars Productions, Adam Blanshay, Adam Zotovich, Robert Ahrens, Stephanie P. McClelland, Carole L. Haber, Richardo Hornos, Carol Fineman, Brian Smith, Warren & Jâlé Trepp
Follies
Producers: The John F. Kennedy Center for the Performing Arts, David M. Rubenstein, Michael A. Kaiser, Max A. Woodward, Nederlander Presentations, Inc., Adrienne Arsht, HRH Foundation, Allan Williams
The Gershwins' Porgy and Bess
Producers: Jeffrey Richards, Jerry Frankel, Rebecca Gold, Howard Kagan, Cheryl Wiesenfeld/Brunish Trinchero/Lucio Simons TBC, Joseph & Matthew Deitch, Mark S. Golub & David S. Golub, Terry Schnuck, Freitag Productions/Koenigsberg Filerman, The Leonore S. Gershwin 1987 Trust, Universal Pictures Stage Productions, Ken Mahoney, Judith Resnick, Tulchin/Bartner/ATG, Paper Boy Productions, Christopher Hart, Alden Badway, Broadway Across America, Irene Gandy, Will Trice, American Repertory Theater
Jesus Christ Superstar
Producers: The Dodgers and The Really Useful Group, Latitude Link, Tamara and Kevin Kinsella, Pelican Group, Waxman-Dokton, Joe Corcoran, Detsky/Sokolowski/Kassie, Florin-Blanshay-Fan/Broadway Across America, Rich/Caudwell, Shin/Coleman, TheatreDreams North America, LLC, Stratford Shakespeare Festival
Best Book of a Musical
Lysistrata Jones
Douglas Carter Beane
Newsies
Harvey Fierstein
Nice Work If You Can Get It
Joe DiPietro
Once
Enda Walsh
Best Original Score (Music and/or Lyrics) Written for the Theatre
Bonnie & Clyde
Music: Frank Wildhorn
Lyrics: Don Black
Newsies
Music: Alan Menken
Lyrics: Jack Feldman
One Man, Two Guvnors
Music & Lyrics: Grant Olding
Peter and the Starcatcher
Music: Wayne Barker
Lyrics: Rick Elice
Best Performance by an Actor in a Leading Role in a Play
James Corden, One Man, Two Guvnors
Philip Seymour Hoffman, Arthur Miller's Death of a Salesman
James Earl Jones, Gore Vidal's The Best Man
Frank Langella, Man and Boy
John Lithgow, The Columnist
Best Performance by an Actress in a Leading Role in a Play
Nina Arianda, Venus in Fur
Tracie Bennett, End of the Rainbow
Stockard Channing, Other Desert Cities
Linda Lavin, The Lyons
Cynthia Nixon, Wit
Best Performance by an Actor in a Leading Role in a Musical
Danny Burstein, Follies
Jeremy Jordan, Newsies
Steve Kazee, Once
Norm Lewis, The Gershwins' Porgy and Bess
Ron Raines, Follies
Best Performance by an Actress in a Leading Role in a Musical
Jan Maxwell, Follies
Audra McDonald, The Gershwins' Porgy and Bess
Cristin Milioti, Once
Kelli O'Hara, Nice Work If You Can Get It
Laura Osnes, Bonnie & Clyde

Best Performance by an Actor in a Featured Role in a Play
Christian Borle, Peter and the Starcatcher
Michael Cumpsty, End of the Rainbow
Tom Edden, One Man, Two Guvnors
Andrew Garfield, Arthur Miller's Death of a Salesman
Jeremy Shamos, Clybourne Park
Best Performance by an Actress in a Featured Role in a Play
Linda Emond, Arthur Miller's Death of a Salesman
Spencer Kayden, Don't Dress for Dinner
Celia Keenan-Bolger, Peter and the Starcatcher
Judith Light, Other Desert Cities
Condola Rashad, Stick Fly
Best Performance by an Actor in a Featured Role in a Musical
Phillip Boykin, The Gershwins' Porgy and Bess
Michael Cerveris, Evita
David Alan Grier, The Gershwins' Porgy and Bess
Michael McGrath, Nice Work If You Can Get It
Josh Young, Jesus Christ Superstar
Best Performance by an Actress in a Featured Role in a Musical
Elizabeth A. Davis, Once
Jayne Houdyshell, Follies
Judy Kaye, Nice Work If You Can Get It
Jessie Mueller, On A Clear Day You Can See Forever
Da'Vine Joy Randolph, Ghost the Musical
Best Scenic Design of a Play
John Lee Beatty, Other Desert Cities
Daniel Ostling, Clybourne Park
Mark Thompson, One Man, Two Guvnors
Donyale Werle, Peter and the Starcatcher
Best Scenic Design of a Musical
Bob Crowley, Once
Rob Howell and Jon Driscoll, Ghost the Musical
Tobin Ost and Sven Ortel, Newsies
George Tsypin, Spider-Man Turn Off The Dark
Best Costume Design of a Play
William Ivey Long, Don't Dress for Dinner
Paul Tazewell, A Streetcar Named Desire
Mark Thompson, One Man, Two Guvnors
Paloma Young, Peter and the Starcatcher
Best Costume Design of a Musical
Gregg Barnes, Follies
ESosa, The Gershwins' Porgy and Bess
Eiko Ishioka, Spider-Man Turn Off The Dark
Martin Pakledinaz, Nice Work If You Can Get It
Best Lighting Design of a Play
Jeff Croiter, Peter and the Starcatcher
Peter Kaczorowski, The Road to Mecca
Brian MacDevitt, Arthur Miller's Death of a Salesman
Kenneth Posner, Other Desert Cities
Best Lighting Design of a Musical
Christopher Akerlind, The Gershwins' Porgy and Bess
Natasha Katz, Follies
Natasha Katz, Once
Hugh Vanstone, Ghost the Musical
Best Sound Design of a Play
Paul Arditti, One Man, Two Guvnors
Scott Lehrer, Arthur Miller's Death of a Salesman
Gareth Owen, End of the Rainbow
Darron L. West, Peter and the Starcatcher
Best Sound Design of a Musical
Acme Sound Partners, The Gershwins' Porgy and Bess
Clive Goodwin, Once
Kai Harada, Follies
Brian Ronan, Nice Work If You Can Get It
Best Choreography
Rob Ashford, Evita
Christopher Gattelli, Newsies
Steven Hoggett, Once
Kathleen Marshall, Nice Work If You Can Get It

Best Direction of a Play
Nicholas Hytner, One Man, Two Guvnors
Pam MacKinnon, Clybourne Park
Mike Nichols, Arthur Miller's Death of a Salesman
Roger Rees and Alex Timbers, Peter and the Starcatcher
Best Direction of a Musical
Jeff Calhoun, Newsies
Kathleen Marshall, Nice Work If You Can Get It
Diane Paulus, The Gershwins' Porgy and Bess
John Tiffany, Once

Best Orchestrations
William David Brohn and Christopher Jahnke, The Gershwins' Porgy and Bess
Bill Elliott, Nice Work If You Can Get It
Martin Lowe, Once
Danny Troob, Newsies
Read More
Filed Under: