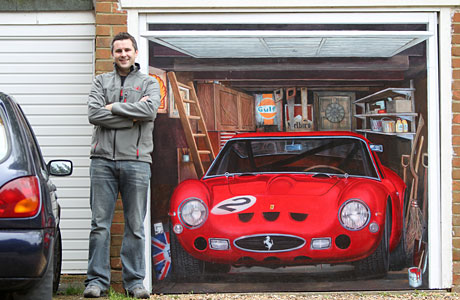 Hey, we're all aware of the global situation, we know times are tough. But that doesn't mean we can't have dreams. Take the Hampshire car nut (and former art school student) Chris Smart, whose ambition of owning a 1962 Ferrari 250 GTO has been met, and all it cost him was the price of a few pots of paint and some brushes.
Enterprising Chris painted a garage, filled with his favorite car, on the door of his actual, Ferrari-free garage. It took him two weeks to create the picture, which also features Harry Potter's broomstick, a KFC bucket and, of course, a pot of red paint. There, job done!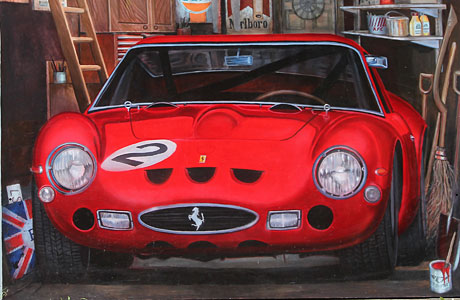 Chris explained to BBC News: "I hated the old garage door before, it was really boring.
"I'd seen garage covers advertised on the internet with trucks and Formula One cars but I thought I'd make it look as though I'd got a nice sports car parked in there. I wanted it to stand out so it had to be an expensive, red Ferrari and I've always loved the 250 GTO."
"I'm not sure if people mistake it for a real car. We've seen some passers-by take photos. We've had a few kids stop and stare as they walk past. Originally one of my neighbours wasn't too keen, but now she loves it."
His wife Kerry, 32, added: "Painting the car on the garage door is as close as he's ever likely to get to it unless we win the lottery."
Last time a Ferrari 250 GTO went to auction, it went for just over $32 million. They might need to win the lottery twice.
Read More
Filed Under: