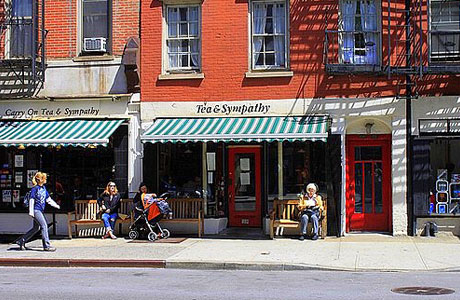 NYC-based Brits may not get a four-day weekend but you can still sate your inner royalist by heading to a host of Queen-themed parties and events taking place up and down this splendid city, starting Saturday, June 2.
Want to celebrate in a traditional British pub with all the trimmings? Head to the Jones Wood Foundry from 11am this Sunday. They've got bands, they've got buskers and they've got beer (room temperature, we hope). Better still, there's no admission charge and we're told they'll be serving Cornish pasties and other Brit food favorites.
Virgin Atlantic has booked a real royal guard, complete with bearskin hat and embedded frown, to stand at attention on Union Square this Saturday. Your job is to try and make him laugh. The ten people who incite the heartiest guffaws will win a pair of plane tickets to London.
Big Apple Brits is hosting a rooftop BBQ at The Delancey on the Lower East Side, Saturday from 1 pm. An $18 ticket gets you access to this venue's fabulous roof garden, entry into a raffle and lunch. We're told there will be sausages – real British bangers sourced from Myers of Keswick in the West Village.
It's day one of the Jubilee but already your bunting's beginning to sag, you're fat on cucumber sandwiches and no one's laughing at your corgi impression. Time for a nightcap. On the Lower East Side, Fontana's bar welcomes London club night Feeling Gloomy this Saturday. DJs will blast tracks that entered the ether in 1977, the year Queen Elizabeth II celebrated her silver jubilee. Expect numbers from the Clash, the Jam and the Stranglers. That they'll turn the volume up to 11 for "God Save the Queen" by the Sex Pistols is a given.
Tea and Sympathy in the West Village has everything you need for a right royal knees-up. They've stocked up on memorabilia and street party provisions, from bunting and paper plates to Jubilee jam. Plus, owner Nicky Perry told Mind the Gap they've invited morris dancers to perform outside the store-cum-restaurant at some point over the weekend. (Follow @teaandsympathy for up-to-date news on this.) But turn up at this glam cafe anytime over the Jubilee and they'll let you eat cake off the Queen's face. They've just dusted off the royal china, you see.
After the Jubilee celebrations have officially finished, NYC Brits can still look forward to live music and dancing courtesy of The Virgin Atlantic GEORGE Diamond Jubilee Bash on June 7. If you're not already a member of The St George's Society of New York (a charity that looks out for Commonwealth expats in NY), tickets cost $185. All proceeds, including funds raised by the event's silent auction, go to the charity. Lots include a London package with upper-class Virgin flights, two nights in the Corinthia Hotel, and a private viewing of the Crown Jewels at the Tower of London!
Big Apple Brits, what have we missed?
Read More
Filed Under: