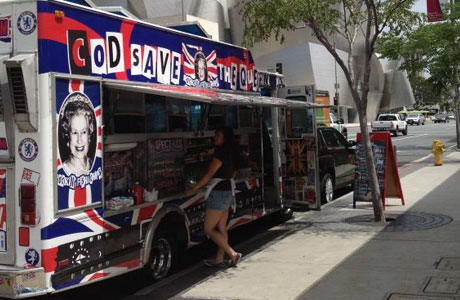 In the city of movie stars and swimming pools, it's probably true to say that Queen Elizabeth II's 60th Jubilee celebration isn't big news. Everyone likes to hear about Will and Kate of course, but on the whole it's the minutiae in the lives of celebrities, actors and sports stars that's likely to get people's attention here – except for at the few Brit-friendly places that are planning to make merry from Saturday, June 2 to Tuesday, June 5. If only we were getting the four-day holiday that everyone in the UK will enjoy!
Another queen – the Queen Mary ocean liner in Long Beach – has welcomed many members of the Royal family onboard during her seagoing life (including a young Princess Elizabeth), and you could take in the air there like they did. Or you could go further afield to Pasadena, where the Rose Tree Cottage is hosting a Jubilee Tea Party. Hats and tiaras are encouraged, and gentlemen "may wear their Ceremonial Swords!"
British pubs everywhere will be celebrating in style, and at the Cat & Fiddle on Sunset Boulevard, they're offering Victorian sponge cake and champagne for $9 during the long weekend. If you do that very British thing and take a trip to the seaside, at Ye Olde Kings Head in Santa Monica there will be a Royal Tea and Beatles Tribute Band (forget that they gave back their MBEs!). In their shop next door, you can buy Diamond Jubilee Commemorative items as well as favorites like tea, biscuits and chocolate. Best of all the pub/restaurant will be decorated with flags and bunting "in the usual British manner," evoking memories of the 1953 Coronation, when Elizabeth was crowned and there were street parties all over the UK.
That kind of street tea party will be held in the courtyard of the Palihouse boutique hotel in West Hollywood on Saturday. Organized by popular social site BritsinLA, you can come and wave a flag at the "Luvly Jubbly Jubilee" and join Tom Lowe (host of new show "Real Life: The Musical") in confusing non-Brits with a sing-along of "Knees Up Mother Brown," "My Old Man (Said Follow The Van)" and "Roll Out The Barrel" before standing as opera singer Gus Farwell belts out the National Anthem.
The menu at "Buckingham Palihouse" will include tea, cucumber sandwiches and cakes (naturally), as well as turkey with horseradish, scones and clotted cream and jam to finish: you'll be right stuffed! "Silliness is encouraged," as is 1950s fancy dress – tickets are just $55 and include the ever-precious commemorative mug.
Finally, if you're going to be out and about, check the Twitter feed of Cod Save The Queen, a new, Union Jack-covered food truck that's serving up some proper fare: fish and chips, banger sarnies, cod and leek pie and more. They're zipping all over town, and since he's no longer on assignment to Her Majesty's Secret Service, actor Pierce Brosnan has already had time to pay them a visit!
Tell us, Brit Angelenos, what have we missed?
Read More
Filed Under: