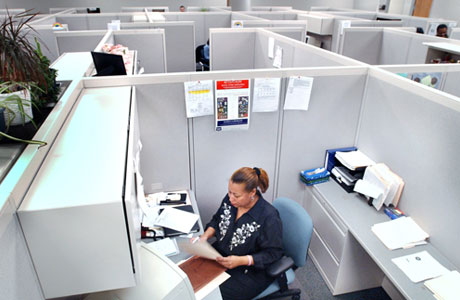 Considering we're stuck in a super-size economic black hole, some would say you're more likely to find pixies at the bottom of your garden than a new job in this lousy market. Make that pixies and unicorns if you're a foreign national looking for work in the US. Still, there are things a determined Brit can do to find employment in the land of the free.
1. Ditch the CV; write a resume
Okay, yes, essentially, they're the same thing. But if you're applying for jobs in the US, you want to make sure you get the terminology right. Your British accent might be catnip to Americans but your funky spelling, peculiar phraseology and alien sounding qualifications won't be. It's worth looking on some resume-building sites and asking U.S. recruitment agencies what they look for in an applicant.
2. Talk to your boss
If you work for a multinational firm, it's possible that they'll be able to hook you up with a sweet transfer and a plush L-1 visa. This is one of the more straightforward ways to work in the US because you've already been vetted from within. Not to mention, most of the headache-y paperwork will land on someone else's desk, and the company will most likely sort out your stateside accommodation.
3. Take the long view
Apply to work for British companies that have offices in the U.S. When you're interviewing, gently inquire about the possibility of a transfer. Note: you might want to avoid sounding too enthusiastic on this. Even big businesses have a fragile ego and may not look fondly on candidates using them for their foreign connections.
4. Flaunt your desirable skill
If you have a degree plus a profession, like teaching or medicine, your chances of scoring a job across the pond are much improved. When U.S. employers are short on skilled, home-grown staff they occasionally look to fill posts with foreigners. But be warned: you'll need an H1B visa, and the thorny application process only begins once you have the job. Unless you love lingering over impenetrable forms that make only limited sense, this will grate.
5. Sign up for summer camp
Schemes like Camp America and Bunac have been matching students with summer jobs, and helping them get J-1 visas, for decades. But this is not a fast route to the big bucks. Wages will be low or you'll receive food, board and pocket money instead of a paycheck.
6. Start a business
Loosely speaking, "treaty" or E category visas are only an option if you can afford to go into business in the U.S. They're extremely tricky to obtain and you'll most likely need a six-figure wodge burning a hole in your pocket to make a realistic application. Read all about them here and here.
7. See the sites
Of course, there's nothing stopping Brits from applying for jobs advertised on U.S. websites. But unless an ad specifically says the company is prepared to sponsor a non-American, your lack of citizenship is going to be a huge turn-off. You're better off scouring U.K. sites for jobs based in the U.S. or ringing round agencies in the UK and asking whether they recruit Brits for American jobs.
8. Study in the U.S.
If you can afford the fees, studying in the US can be a gateway to finding employment. The F-1 visa (granted to foreign students) allows you to take paid work to subsidize your swotting.
Expats: any other tips for scoring a job in America? Tell us below:
Read More
Filed Under: