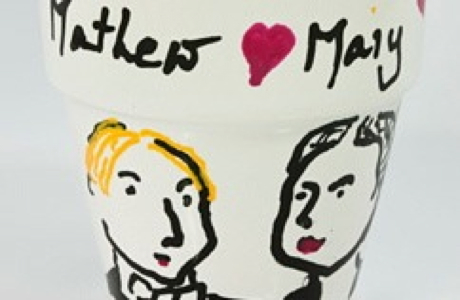 Take a breather, Downton Abbey fans. Other than a display of flower power, there's not a lot happening on the news front for your favorite TV period drama this week.
Season Two has finally begun airing in Australia, filming continues on Season Three in England, and, according to the Hollywood Reporter, Jessica Brown Findlay, who played youngest daughter Sybil Crawley, has been cast in Lullaby, a new movie that begins shooting in June and costars Amy Adams, Garrett Hedlund and Jennifer Hudson.
As a charity-raising effort tied in with the popular annual Chelsea Flower Show in London, Downton creator and writer Julian Fellowes decorated a flower pot with the visages of lovebirds Matthew Crawley and Lady Mary Crawley.
Actor Hugh Bonneville, who plays Lord Robert Crawley on the show, also took paintbrush to pot to help out.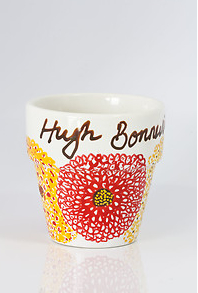 Both pots are being offered at auction and bids are being taken online through noon GST on Sunday, May 27. Other celebrities who decorated pots include Ricky Gervais, Judi Dench, Joanna Lumley, Joan Collins and Ben Kingsley. Money raised will benefit the Royal Horticultural Society's Campaign for School Gardening.
Fellowes, who attended a preview viewing of the flower show over the weekend (as did Queen Elizabeth, an annual visitor since 1971), said he himself was more of an appreciator of gardens than an actual dig-in-the-dirt gardener. Also showing up to smell the posies was actor Jim Carter, who plays Mr. Carson, the butler on Downton, along with his real life wife, actress Imelda Staunton (Vera and Cranford).
—————————————–
Which pot do you like the best? Will Anglophenia readers be making bids on any of the charity pots?
—————————————–
Read More
Filed Under: