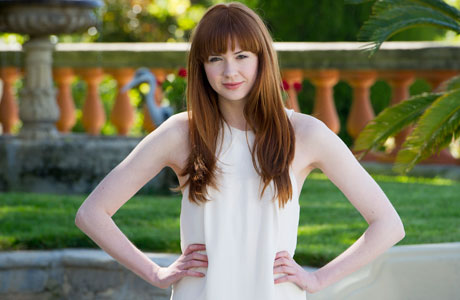 If the Doctor ever finds himself short of a pair of binoculars, at a crucial moment, Karen Gillan's got them.
In an interview about her last day on Doctor Who, she told the Daily Record that she has taken one item as a souvenir of her time on the show, and it's part of the TARDIS: "I didn't get to keep any Pond stuff because everything related to Doctor Who goes into exhibitions. But I might have taken a little special something from the TARDIS."
When asked, she was forced to admit it's "a pair of binoculars. They look really weird in my house, just sitting there."
She also revealed that her last filmed scene was an emotionally charged affair: "It was a weird, serene day where everyone was feeling it. We don't film in chronological order so the last shot we filmed was me, Matt and Arthur going into the TARDIS. Then Matt closed the door for the last time and we were in darkness. We hugged and started crying. It was kind of tears of happiness. It was a feeling of 'Look at what we've done'. It was lovely."
• Karen stepped out of the TARDIS and onto the French Riviera last week for the Cannes Film Festival. She was there to publicize her film Not Another Happy Ending, which is set to start shooting in Glasgow in July. The director John McKay, who also directed her in We'll Take Manhattan, in which she played Jean Shrimpton. This time, Karen is playing "Jane Lockhart, a headstrong and passionate author of miserable fiction who suffers writer's block on her second novel." Her publisher has an unorthodox way of snapping her out of the funk — by making her miserable.
• We've been excited to see the reaction to Karen Gillan's announcement that she'd love a role on the NBC sitcom Community (which has featured a Doctor Who spoof titled Inspector Spacetime). "Karen Gillan" and the hashtag "#AmyMeetsAbed" were trending on Twitter last Tuesday, and some stars from Community have tweeted their enthusiastic approval.

And THE Neil Gaiman chimed in with elegant brevity on Tumblr, "Insert one of those wistful 'how I would love to write this scene' icons here."
• We're still trailing ahead to the release of the Doctor Who Playstation game The Eternity Clock, which will be out tomorrow (May 23).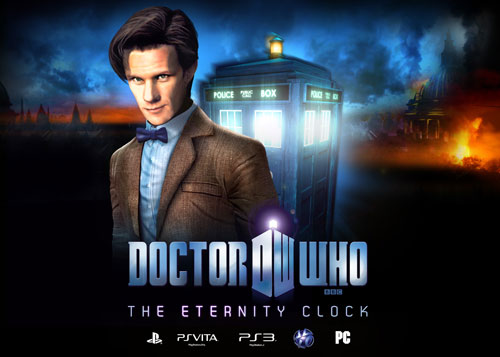 Here's a Dalek's-eye view of what will happen:
• This week's Life Outside The TARDIS feature is all about Peter Davison, the Fifth Doctor and a man with a rare ability to convey stress in a charming way.
• Hats off to Steven Moffat, without whom this would be quite an empty roundup. He's set to receive a special award at this week's BAFTA TV Awards, simply for being marvelous.
He joshingly told BBC News: "Blimey. A Special Award. I didn't even know I was ill. So thrilled by this – especially after two years of [working on] Sherlock and Doctor Who, my two favorite shows ever."
Speaking of trophies, Neil Gaiman and Richard Clark won a Bradbury at last week's Nebula Awards for The Doctor's Wife, a script which demonstrates full understanding of the Doctor Who world while adding brand new twists. Gaiman tweeted a picture of his award.
• A quick show of hands: Who saw the Doctor Who cosplay reference in Criminal Minds?
http://www.youtube.com/watch?v=_AffH69Ktik
What, ALL of you? OK…
• This week's rogues for the Rogues Gallery are the very literally named Haemovores. They're, like, evolved vampire humans from the far future who've come back in time to invent Dracula, and stuff? A most singular sub-species indeed.
• Speaking of popular Who baddies, Doctor Who Magazine has recruited every Dalek that ever exterminated for one killer cover spread.
Read More
Filed Under: