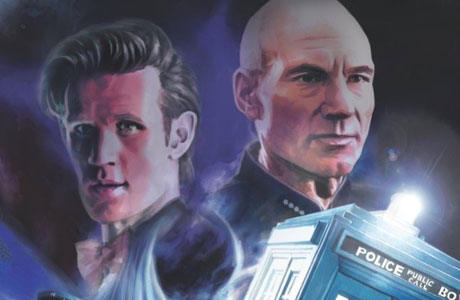 The Eleventh Doctor and Captain Jean-Luc Picard: together at last. That's right, the first issue of IDW Publishing's Doctor Who/Star Trek crossover comic — titled Star Trek: The Next Generation/Doctor Who: Assimilation2 — hits stores May 30. Wired Magazine has tantalized us with an exclusive preview and some choice quotes from the writers including Tony Lee and Scott and David Tipton. (J.K. Woodard provides art.) "I've been watching both Star Trek and Doctor Who my entire life, but I'd never much dwelled on the idea of crossing them over, because it just seemed like such an impossibility," Scott Tipton told Wired. "But once that door opened, we couldn't wait to throw these universes together to see what happened. I think the TARDIS qualifies as someplace no one in Star Trek has gone before."
Indeed. The new comic finds our Doctor, his companions, and the Enterprise crew facing off against an alliance between the Borg and the Cybermen. For Whovians, Wired says the writers "effectively capture Doctor Who executive producer and lead writer Steven Moffat's humor, star Matt Smith's charisma and the British sci-fi show's enduring cast chemistry."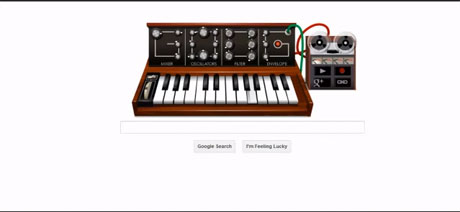 • Yep, you knew someone had to do it: when Google posted a playable Moog synthesizer as their Doodle on the late Dr. Robert Moog's 78th birthday back on May 23, it was almost inevitable that a fan would dash off a version of the Doctor Who theme. But who knew it would be this brilliant? Here's something that will make you smile on this post-holiday weekend Who's Day.
http://www.youtube.com/watch?v=blVmb_10zDE
• New Yorker magazine's Emily Nussbaum has done a marvelous piece on cult TV fandom, zeroing in, interestingly enough, on Doctor Who and Community (which has recruited many Whovians with its Inspector Spacetime parody). Comparing classic and modern Who, she finds a striking dichotomy: "The original Who dwelt on pure sci-fi obsessions, abstract questions of how society is organized and the line between humans and machines. But, as deeply as fans loved the show, its themes were rarely emotional… I was surprised, and delighted, to find that the modern Doctor Who has a very different emphasis: it's a show about relationships, in an epic and mythological vein."
She adds, "Although he's literally been there and done that, [Matt] Smith's Who is a Tigger of high spirits, a characterization nicely shaded by moments of darker self-questioning. 'I took you with me because I was vain,' he confesses to Amy in one scene. 'I wanted to be adored.' This is one of the most provocative aspects of the recent Doctor Who: since Amy was enraptured by the Doctor as a child, her relationship to the Doctor is essentially that of a fan, who spends years drawing pictures and building models of his adventures, her low-tech version of a Dreamatorium. This generous devotion balances, but never quite erases, the show's sadder themes; on Doctor Who (and on Community, too) the fan's experience of loyalty and loss is its own, legitimate form of romantic love."
What do you think of Nussbaum's take on the series? Does she nail what it means to be a Doctor Who fan?
• This past Saturday (May 26), hundreds of fans turned out at the crack of dawn in Cardiff to watch Matt Smith carry the Olympic flame in a leg of the torch relay leading up to the London Olympics. A beaming Matt told The Daily Telegraph, "I feel immensely privileged. The torch and the idea of the torch has been around a long time. I would do it in my underpants. I would probably get a bigger crowd for that."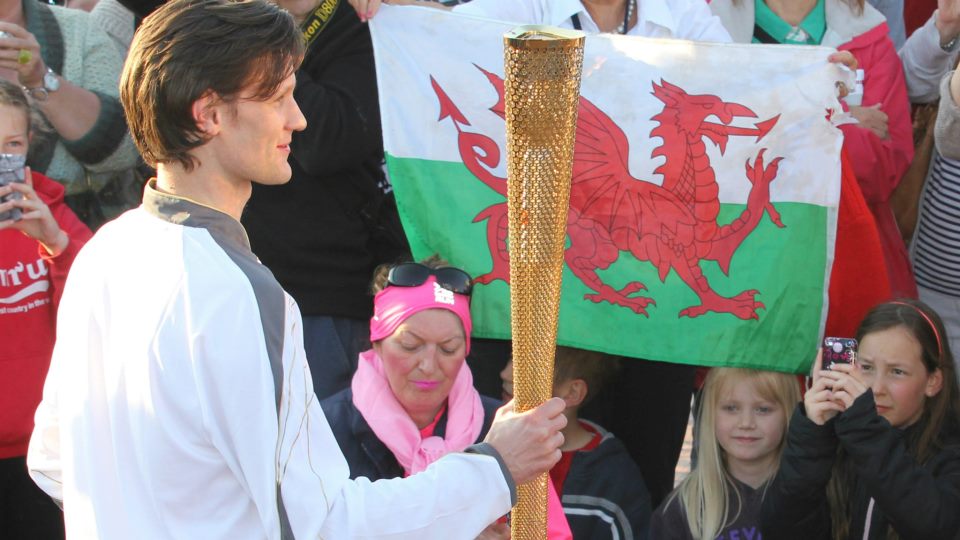 • Speaking of the Olympics, did you get to see the special Summer Games-themed Doctor Who episode written by schoolchildren, and featuring the Weeping Angels? You didn't? Well feast your eyes on this:
http://www.youtube.com/watch?feature=player_embedded&v=GkP8W4D2k68
• It seems everyone at Doctor Who will be feeling the loss of Karen Gillan and Arthur Darvill for a while yet, and not without good reason, as Steven Moffat revealed to Digital Spy: "The thing you can forget about this is, while the audience are losing people that they see for a few months per year, Karen and Arthur are walking out of something that they've been involved with every day for years. It's not just a professional change, it is a personal upheaval."
"I'm trying not to say it's like being dumped, but a huge part of your life changes. I think of Karen and Arthur, and from Matt's point of view – people that you saw every single day and have become absolutely part of your de facto family are now gone, never ever to be in that place in your life again."
• On the plus side, the departure of Amy and Rory means the Doctor's newest traveling companion has started work. Jenna-Louise Coleman reported for duty alongside Matt Smith and the crew at the Welsh medieval manor of Plas Llanmihangel in the Vale of Glamorgan, ready to shoot her introductory adventure, according to Den of Geek.
• There's been the very slightest hint from Mr. Moffat about what the Daleks might be up to in the new series. He's not given any of the plot away, except to say that it's going to be rotten. He told ITV: "The Daleks are coming back and they're worse than ever. Just you wait until you see what they're going to do."
But he refused to be pressed on details, saying "if I even told you the title you would say, 'Ah!'"
And we can't have that.
• Doctor Who superfan RitchandSpace has put together a really helpful guide to watching the original series, from a time before Russell T Davies. Should you ever find yourself faced with an old Third Doctor adventure and wondering what all the fuss is about, watch this, change your viewing habits and maybe you'll feel differently. This does not mean you are being unfaithful to David Tennant or Matt Smith, so you mustn't feel guilty:
• Did we mention that the Doctor Who Playstation 3 game The Eternity Clock is now on sale? We did? OK.
• The rogues in this week's rogues gallery are the Slitheen, or Raxacoricofallapatorians, to give them their proper title. They're human-skinning, farty, baby-faced killers every one of 'em.
• Wanna see a very fast painting happening of David Tennant's face? Course you do:
• We've been looking at the pre- and post-Doctor Who career of Sixth Doctor Colin Baker this week, including some footage which caused more than one person to mutter "wow, without that wacky coat and the curly hair… he was HOT!"
Read More
Filed Under: