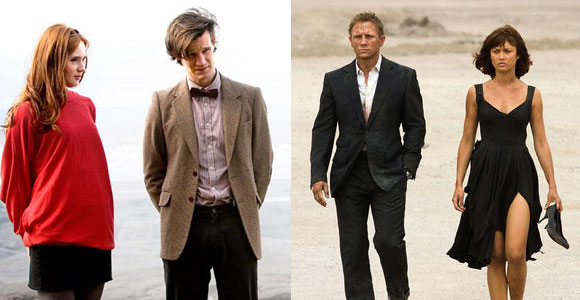 Sam Mendes, the director of the new James Bond movie Skyfall, has outlined an interesting reason why the Bond franchise has endured: it has a lot in common with Doctor Who.
Think about it, the central character is timeless but always changing, a fan of gadgets who always has one iconic weapon tucked away in his suit jacket, a handy fellow in a tight spot, and very good with the ladies (although for markedly different reasons).
Then there's the changing face situation. Sam explained to Collider that he had watched George Lazenby take on the role of Bond from Sean Connery, and was appalled at the self-conscious way the film-makers approached the situation: "Connery was a great piece of casting; he was iconic in the role.  And then they asked [Lazenby] to do strange things which I thought spoke a little bit of their insecurity, for example, right at the beginning, he turns to camera and says to camera, 'That wouldn't happen with the other guy,' you know?
"The first time I saw the movie, I was like, "You've got to be joking! You can't do that to the poor man!" But it was too…they were playing almost embarrassment, almost apologized for having a new Bond and I thought that was wrong, and I thought what they got right was Casino Royale. There was a kind of 'We don't need Q, we don't need Moneypenny. We've got this character. We're going right back to basics. He's real, he's in a real situation. Let's start all over again.' I thought that was very refreshing.
"That's why I mentioned the word in the press conference, 'regeneration' rather than 'evolving,' because I feel it is like, you know, we have Doctor Who – there's a geek answer – we have Doctor Who and I was brought up on the idea of Doctor Who, who at the end of his final episode, he dissolves and a new actor pops up and he regenerates and it's a whole other character: sometimes it's an old man, sometimes it's a young man, but he just changes. I've always loved that idea."
Here's what else is going on in time and space this week:
• Bet you won't see this on the American version with Howard Stern: Martyn Crofts adds a distinctly Whovian touch to his audition on Britain's Got Talent.
http://www.youtube.com/watch?v=5LLngK_yG30
Yeah, that's Gibbis from The God Complex (a.k.a. Little Britain's David Walliams) on the judging panel. Can we swap Howie Mandel for him, perchance?
• In the annals of Doctor Who theme renditions, this may be the one most likely to be appreciated by Sheldon Cooper: MrSolidSnake745 recreating the classic tune with eight floppy disk drives.
• Oh and while we're getting our supergeek on, someone's built a fully operational TARDIS in the online video game Minecraft:
• There are six more Who novelizations on the way, reissued from the Target novels of the 1970s, which were written by Doctor Who screenwriters like Terrence Dicks and Malcolm Hulke. Given the chance to vote for their favorites, the Doctor Who Facebook mob chose: The Ice Warriors, The Day of the Daleks, The Tenth Planet, The Three Doctors, The Ark in Space and The Loch Ness Monster for reprinting. Steven Moffat and Mark Gatiss are among the writers to have contributed written introductions for them.
In Steven's case, he waxes nostalgic about the power of these books to recreate the suspense of the TV original: "In the days before DVD, even before video, his books were the exact equivalent. They were Doctor Who TV serials you could keep on your shelf. Utterly faithful, not just to the detail of the narrative and dialogue, but to the feel and the atmosphere and even the pace. In precise, zingy prose, he'd turn a projector on in your head and you'd be watching the show again."(via Radio Times)
• Here is some great insight into the scripting process for classic Who. Eric Saward, script editor for the Sixth Doctor serial Vengeance on Varos, talks about the challenges of writing the show, and whether or not Harold Pinter, the late great British playwright, could have penned an episode:
• Remember Ain't It Cool News and BBC Home Entertainment's screening of the restored 1971 episode The Daemons at the Alamo Drafthouse Cinema in Austin? Ain't It Cool News reported on the screening, with some brilliant feedback from Texan Whovians (one of whom has a TARDIS tattoo):
• While we're digging about in the past, this weeks Rogue from the Rogues Gallery is the Master. A pantomime villain, a prankster, a malevolent force, whose actions become harder to understand, the more we know about him.
• Tony Selby, Tony Osoba and Shirin Taylor — who all appeared in the Seventh Doctor serial "Dragonfire" back in 1987 — discuss the lifelong friendship they formed while filming. If you're a fan of classic Who, this is 15 minutes well-spent:
• Who wants to see Matt Smith as a badger? Yeah, you do…
• If you've a hankering to get to where Steven Moffat is, and you've no idea how to get started, here's a clue or two from the man himself, together with tips on production from his wife and collaborator Sue Vertue:
• And while we're at it, we began with a link between Doctor Who and a great British literary institution, and we may as well end with one. Here's Steven (and some guy called Benedict Cumberbatch) at the screening for his other series, Sherlock, here in New York:
I know, it's a very Whovian response, isn't it?
Read More
Filed Under: