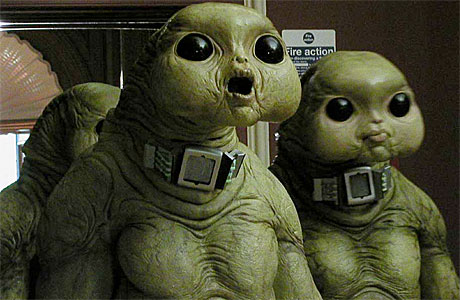 Let's start with a point of cosmic etiquette: it is far more polite to refer to these baby-faced rotters, with their skin suits and unpleasant habits, as Raxacoricofallapatorians, as they are from the planet Raxacoricofallapatoris. The name Slitheen only refers to one family of Raxacoricofallapatorians. and it would be considered bad form to refer to Blathereens or Hostereens as Slitheens, in much the same ways as it would be to call all Earthlings Mexican.
Nevertheless, Earthling is a lot easier word to say than Raxacoricofallapatoria, and it's not as if they behave well enough as a species to warrent considerate behaviour (never mind the larceny, power-hunger and murder, what about all that farting?), so if it's good enough for the Doctor and Rose to call them Slitheen, it's good enough for me.
So, a brief recap of the biology involved: a fully grown member of the Slitheen family stands eight feet tall, with a big baby face and claws like whale ribs. They're a calcium-based lifeform, who can wear humans skins like a fancy dress costume, using their necklace doohickeys to squeeze them in. You can dissolve them in vinegar. They can smell adrenaline and hormones, and the females can shoot poison darts out of their fingers. They are, in a word, gross.
But do they care? They do not. They just want money and lots of it. So they tried to take over the world from London, and instigate a world war so they could sell the irradiated bits of planet for cash (Aliens of London), and got a blowing-up for their troubles. Next, the escaped matriarch, Blon Fel-Fotch Pasameer-Day Slitheen, tried to escape Earth using an exploding nuclear power station:
Once thwarted, and captured by the Doctor, she tried to kill him (Boom Town), but not very well. He later used the TARDIS to regress her to an egg:
After this, the Slitheen and their kind turned their attentions to exploiting Earth away from the Doctor's glare, but sadly blundered right into the path of Sarah Jane Smith (Revenge of the Slitheen), and she gave them what for as well. From which we can learn that they're a thoroughly nasty bunch, an affont to all senses, including common decency, but really not that scary to a nation that puts vinegar AND ketchup on its food.
Next: The Judoon
Read More
Filed Under: