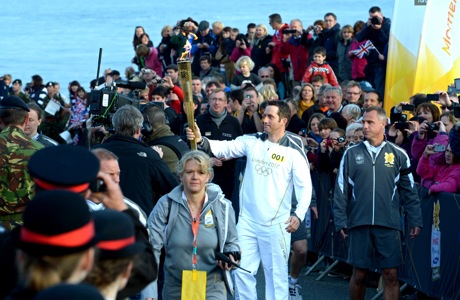 The Olympic torch got a big sendoff in the UK over the weekend, with an estimated 100,000 people turning out to cheer the beginning of the flame relay.
But despite massive enthusiasm, there were a few glitches.
Today, on the third day of the relay, the flame actually went out in the town of Great Torrington in Devon. The cause was apparently a broken propane cylinder.
While it may at first sound like a tragic moment, a burnout is something that organizers of the relay have planned for, writes The Independent. That's one of the reasons that the torch travels with an entourage of 350 people who bring two back-up flames, "an heir and a spare." Both can trace their lineage back to summit of Mount Olympus where the original flame was lit from the light of the sun earlier this month.
"It is not uncommon for a flame to go out, and this can happen for a number of reasons, for example, in extreme winds," said spokesperson for the London Organising Committee of the Olympic Games (Locog). "We keep the mother flame alight in specially designed miners' lanterns so if the flame does go out for some reason we re-light it from the source of the flame."
Perhaps more troubling have been all the stories about attempts to cash in on the torch.
On the first day of the relay, Saturday, one of the first torchbearers lost little time in putting a torch up for sale on eBay. There have been reports that one of the torches went for more than £150,000, although there has also been speculation about hoax bids.
London 2012 said the torches were worth £495, according to the Guardian, but torchbearers, who had to pay for their own torches, were only charged £215, with the difference being made up by London 2012.
Locog said there was nothing organizers could do to prevent people from selling the torches. A spokeswoman said, "We just hope they go to a good home."
There was immediate criticism of people selling torches for personal gain.
"If sports magic can be bought there is no magic in sport, indeed the very meaning of sport is destroyed, wrote Mihir Bose in an op-ed piece in the Guardian. Bose, who said that he had a replica torch that he had carried in the 2006 Turin Winter Games, wrote that the "Olympic Games cannot claim to be a unique experience when it markets products whose acquisition is no different than a visit to your local supermarket."
Some sellers said they were selling the torches for charity. One relay runner, Andrew Ball, who was nominated for his relay position as a result of charity fundraising and coaching for a local rowing club, said his earnings weren't going to charity.
"I understand some people may find the idea of selling an Olympic torch offensive but we could genuinely use the money," Ball told The Sun. "Without giving you a sob story, we've a lovely baby boy and my wife has just gone back to work after maternity leave."
Ball added: "Also, the torch is nearly a meter long and looks weird on the mantelpiece."
The Guardian also suggested out that "buyers may be more wary of making an investment" when they realize that there will be 8,000 torches in the relay over the full 70 days.
The torch arrived in Britain Friday evening at a naval air base in Cornwall via a special British Airways plane, dubbed "Firefly," after having been flown from Athens by a special delegation, headed by Princess Anne, that also included David Beckham.
It was carried off the plane by the Princess Royal, and then Beckham used the torch to light a cauldron at the military base. From there, it was flown by helicopter to Land's End, England's westernmost point, where it began its 70-day, 8,000 mile journey, which will take it to London for the opening of the Olympic games.
Olympic sailor Ben Ainslee was the first torchbearer early Saturday morning. He handed the flame off to surfer Anastassia "Tassy" Swallow in a move that has come to be known as a "kiss," when his lit torch ignited her unlit one.
Everyone was clearly filled with enthusiasm at Land's End, but it's unclear whether one man was being over-celebratory or whether police were being over-zealous in an incident reported by BBC News. Metropolitan police, who wear gray running clothes, tackled a man they thought had violated the torch's "security envelope" and had gotten too close to the torch.
http://www.youtube.com/watch?v=crbSal6z2OM
"We can confirm officers from the Met's Olympic Torch Team took action to prevent a man from gaining access to the torch bearer close to Land's End," a police spokesperson said.
Read More
Filed Under: