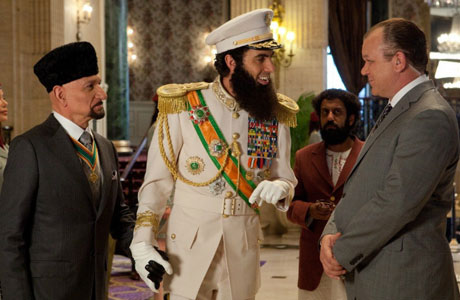 Sir Ben Kingsley maintains that Sacha Baron Cohen is portraying "a monstrous racist" in the comedy The Dictator which had its world premiere in London this week (May 10).
Sacha Baron Cohen's plays General Aladeen – his latest screen incarnation after his successes with Bruno, Borat and Ali G.
Aladeen is the tyrannical dictator of a fictional Middle Eastern country called the Republic of Wadiya.
Sir Ben says Aladeen and his cohorts are "riddled with terrible prejudices, racist, sexist, ageist, every prejudice in the book."
Indeed, the film pokes fun at just about everyone from the Chinese to Hollywood stars Mel Gibson and George Clooney.
But Sir Ben, who serves as Aladeen's Chief of Security and Procurer of Women, maintains there's a point to all this offensiveness. "It's shining a really merciless light on this bigotry and prejudice that's totally infested this dictator and it's great that we're allowed to laugh at them," he says.
The film also has a political element. Towards the end of the picture Aladeen goes on a bit of a tirade in which he implies that certain aspects of American democracy aren't that different from what you might find in a dictatorship. That moment seemed to make the American audience a little uncomfortable on the night I saw the film.
How interested are you in seeing The Dictator? Tell us below:
Read More
Filed Under: