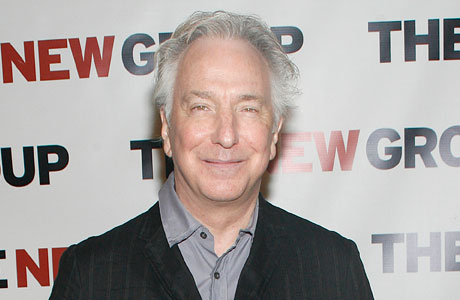 A sure-bet to scoring Oscar gold has been a role as a real-life figure – just ask recent winners Meryl Streep and Colin Firth. Now Alan Rickman, a respected fan favorite who has never been invited to the Academy's party, is throwing a gauntlet down with two upcoming parts. He's set to play President Ronald Reagan in Lee Daniels's upcoming film The Butler, which tells the true story of a White House butler who serves several presidents. Meanwhile, he has also recently signed on to play Hilly Kristal, late founder of legendary New York punk club CBGB's, in a new biopic.
Rickman has played historical figures before, but after his Oscar snub for Harry Potter and the Deathly Hallows, Part 2, fans have been beating the drums to lock him into a vehicle that could nab him some hardware. And these parts could have the heft to do it.
Here's an interview with Hilly Kristal. Certainly, Rickman could nail his laconic growl:
Reagan is a bit trickier, as portrayals have often skirted the line of caricature.
Which role are you more excited about? Tell us below:
Read More
Filed Under: