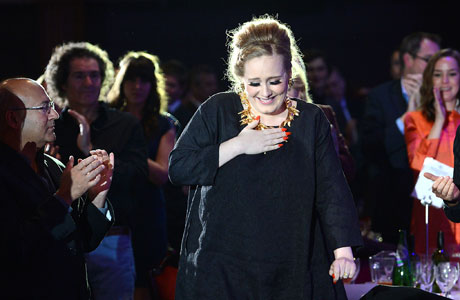 Forgive a moment of hubris here, but it seems I'm directly responsible for creating the best-selling British album of recent times, and as such, given that there are no trophies for the kind of thing I do, I have decided to step forward and collect my applause while it's hot.
Last night, Adele took home the Songwriter of the Year trophy at the Ivor Novello awards, a very prestigious ceremony, in which excellence in musical composition is awarded equal weight with the more traditional award considerations for pop songs – by which I mean sales, mostly. And as part of her emotional speech, she reserved a special mention for all the reviewers for her first album, "19."
Here's a clip, so you can see what she said:
Hear that? The critics (hello!) said that her songs weren't as good as her voice. Actually what some of them said (hello again!) was that the best song on 19, "Make You Feel My Love" was written by Bob Dylan and was made all the better for not being drenched in thick production syrup, and that if she followed the more stripped-back, emotionally bare approach, she'd be an awful lot better as an artist.
Clearly this is the advice she followed, as the key songs from "21" are all very direct, uncluttered, and punch harder than a boxing kangaroo in a huff. And now she's taken over the world.
You are WELCOME, my dear. Enjoy!
Read More
Filed Under: