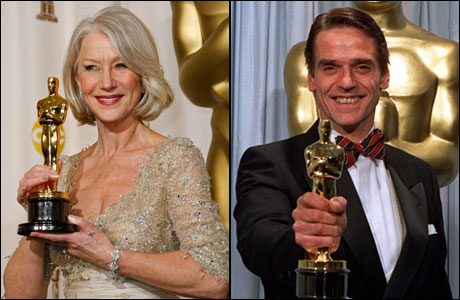 The conventional wisdom is that winning an Academy Award is Hollywood's highest accolade, bringing glory and lifelong dividends to recipients. But if you listen to some Brits who've earned an Oscar, it really doesn't make that much difference.
Dame Helen Mirren, who won an Oscar five years ago for her role in The Queen, says: "My life as such didn't change. My attitude to work didn't change."
But there has been one advantage. "I'm probably recognized more, certainly in America now, than I was before, especially by immigration officials which is incredibly valuable," she says.
Jeremy Irons, who picked up the best actor trophy in 1991 for his role in Reversal of Fortune, says: "I remember the only difference really was that I was sent an inordinate number of appalling scripts that everybody thought, 'If he says he'll do it, we can get this made,' so you look at all the scripts that have no possibility ever of being made."
But what everyone does agree upon is that receiving an Oscar is flattering.
Irons says: "It's wonderful. You join a club of people who you admire. Mind you, there's a lot of people I admire who aren't in that club. That's the way of it, but it's very nice."
There are Brits who would no doubt view the Oscar as tremendous boon to their careers. Take Julian Fellowes. When he won an Oscar for his Gosford Park screenplay in 2002, it really put him on the map adding to his name recognition. He's had a string of successes since then and most recently he's made a big impression on both sides of the Atlantic with his highly successful period drama Downton Abbey.
How would you rate Helen Mirren's and Jeremy Irons's career, post-Oscar?
Read More
Filed Under: