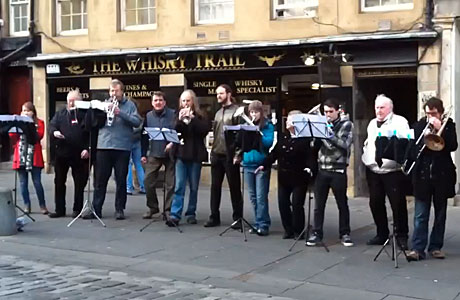 This, big-hearted Anglophenians, might look like a faintly rubbish busking troupe, but it's actually the beginning of a great big proposal, from an unknown lady to her unknown man, earlier today (February 29th, you see) as is the leap year tradition.
Were we to score the effort, there would be high marks for obscuring who is asking what of whom until the very last minute, and even higher marks for style on the part of the proposer. By which we mean: nice jumper!
Had it been a warm enough day to take that coat off, she'd be looking at maximum points, but as this took place today in Edinburgh, Scotland, and it's still quite brisk up there at the moment, she is to be forgiven.
We're assured there will be a better-edited version of this clip coming soon, but for now, well done everyone, and congratulations to the couple in question.
Read More
Filed Under: