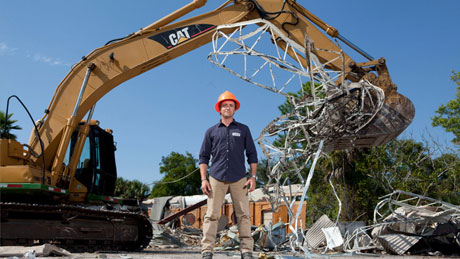 • "What I've been doing is basically bumming around America driving really big, exciting vehicles," Richard Hammond told Jalopnik's Matt Hardigree about the upcoming series Crash Course, premiering April 16.
Hardigree got to spend some time with Hammond as he filmed a segment for the show in which he destroyed a house in Florida with an excavator.
Hammond's challenge was to destroy the house without "killing" a dummy named Nigel.
"I'm not just messing about," Hammond told Hardigree. "In each instance, I've got to learn how to use the machine to do the job it was built for."
Hardegree says that Hammond quickly added: "I am messing about, so what it amounts to is an excuse."
If you want to see video of the interview, as well as a photo gallery of the Florida house demolition, just click here.
• Here's an item that was picked up recently by both our Top Gear Tumblr and Top Gear's UK site, and it's one you won't want to miss: the latest endeavor by serial prankster Remi Gaillard, who, as you might have guessed from his name, hails from France – Montpellier, to be precise. He's known for his infamous Mario Kart prank, and in his newest auto-related stunt, Gaillard pretends to be a speed camera. "If this doesn't make you laugh," the Top Gear folks wrote, "please check you're still alive."
• So you know that Ray Winstone is one of the stars who drops by for some automotive fun in Top Gear's Season 18. Here's an outtake of Richard Hammond meeting Winstone and confusing him with another British actor known for playing gangster roles:
Read More
Filed Under: