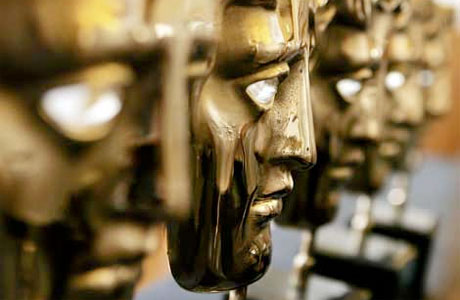 Well, if the BAFTAs are any indication of what is going to happen at the Oscars, the cast and crew of The Artist are all going to need to build extra big sideboards to keep their awards on. The silent spectacular managed to walk off with the best film award, plus extra trophies for cinematography, costume design, original screenplay and music. Oh and Michel Hazanavicius won best director, and Jean Dujardin took home the actor in a leading role trophy, ending his speech with this amazing line: "and as Buster Keaton would say…"
Speaking of speeches, the event's host, Stephen Fry, in warning all winners to keep their speeches pithy and brief, made the point that "no one has ever left an awards ceremony saying 'it was good, but it was a bit too short." Food for thought, Academy Award winners.
It wasn't a bad night for Martin Scorsese either. He won the fellowship of the academy, got to make a lovely speech about the exotic influence of British cinema, and his film Hugo won the production design trophy, and best sound.
Other winners include the production crew on Tinker Tailor Soldier Spy, the people Stephen Fry referred to as "making of a mountain of a film about a mole," which won outstanding British film, and best adapted screenplay. While accepting the latter award, Peter Straughan joked  "I'd just like to thank The Artist for not being adapted from a book."
Meryl Streep arrived to make her speech, for winning the actress in a leading role trophy for The Iron Lady, all of a fluster and out of breath from the walk up to the stage: "that couldn't have gone worse" she began. Thankfully she regained her composure very quickly, but the contrast between this and stately Margaret Thatcher ("awards snatcher," as Stephen Fry called her) was remarkable. The film also won the award for best makeup and hair.
There had been some controversy over Olivia Colman's lack of a nomination for supporting actress in the gruelling Tyrannosaur, because she was wonderful in it and it's that kind of a film. Hopefully the film's outstanding debut trophy will go some way to calm the film's fans down. And in the end Octavia Spencer, who won best supporting actress for her role in The Help, gave such an inspirational and graceful speech it felt like some kind of  justice had been done anyway.
As for the other awards, the BAFTA for special visual effects went to Harry Potter and the Deathly Hallows Part II, so pointy hats off to them. The Skin I Live In won best film not in the English language, and Rango won best animated film.
The Rising Star award, voted by the British public, went to Adam Deacon, star of the Noel Clarke films Kidulthood, Adulthood and Anuvahood. Stephen Fry's comment that the price of his victory is "hours and hours in front of the press" seems rather chilling.
Best documentary was of course Senna (and best editing too). That fella loved to win, so he'll be very happy with another two pole positions, wherever he is.
The BAFTA for best supporting actor went to the absent Christopher Plummer (who had a speech hidden in the envelope for Helena Bonham Carter to read out). A strange moment, and one in marked contrast to the wondrous glory of John Hurt's speech. In accepting his award for outstanding British contribution to cinema, John was help up by a long and heartfelt standing ovation. This was only fitting, as he revealed that his wife had demanded he not deliver the speech he had originally planned, and instead insisted that he simply thank everyone in the room. Which he did, charmingly.
Here's a brief gallery, from the red carpet.

Read More
Filed Under: