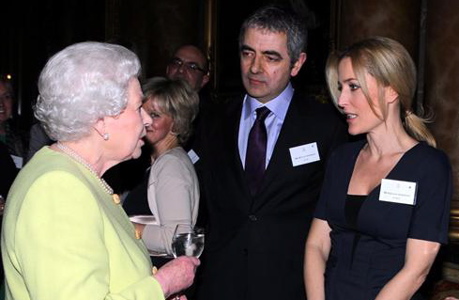 Queen Elizabeth takes after Queen Victoria in at least one way – Britain's current ruling monarch, like her great-great-grandmother, is also an admirer of Charles Dickens.
Tuesday afternoon, the Queen and Prince Philip attended a star-studded theatrical salute to the author on the 200th anniversary of his birth and then in the evening hosted a gala reception in Dickens' honor at Buckingham Palace.
Among the actors who performed at London's Guildhall were Eddie Redmayne, Samantha Cole, and Derek Jacobi, who portrayed Dickens.
Most papers noted an interesting moment for the Queen.
"She found that at one point during the afternoon, she was not the only Queen in the room," wrote the Telegraph.
In the tribute, actress Samantha Spiro portrayed Queen Victoria, who was reportedly once snubbed by Dickens himself after a theatrical performance in 1857.
Faux and real queen met after the performance, providing a slightly surreal photo op.
The show's director, Richard Clifford, said it was "lovely to celebrate" Dickens bicentenary with the Queen. "It's always a great privilege particularly as she's not a huge theatre-goer," he said.
After the performance, the Queen headed back to the Palace, where she hosted a reception and greeted celebrities, Dickens authorities and descendants, including great-great-grandson Mark Dickens.
"She was very interested in the bicentenary," Dickens told the Mirror. "She seemed genuinely interested in the family and the events that have been taking place."
A Dickens manuscript curator agreed that the Queen's interest and knowledge of the author appeared to be genuine.
"She seemed to know all about his working methods which was a surprise. She knew all about how he wrote for magazines," said Julius Bryant of the Victoria and Albert Museum. "She seemed very well informed, so she is definitely a Dickens lover. I think she must have read a lot of his work."
Among the actors attending the reception were: Gillian Anderson, who gave a private reading at the Dickens Museum last week for Prince Charles and Camilla; and Ralph Fiennes and Helena Bonham Carter, both starring in Mike Newell's upcoming adaptation of Great Expectations. Fiennes also read from Bleak House at last week's Westminster Abbey ceremony.
—————————————-
Watch a BBC News video about Tuesday's Dickens celebrations.
—————————————-
Also on hand was Rowan Atkinson, who played Fagin in a West End production of Oliver!
"I think it's an extremely important evening. Dickens is an invaluable part of British literary heritage," Atkinson said. "I am making the most of the opportunity to do it now as I probably won't be around when we celebrate it in another 100 years' time."
He said that it was a "privilege" to be invited to celebrate Dickens – and managed to avoid the pratfalls of his most famous character, Mr. Bean, when he met Her Majesty.
Read More
Filed Under: