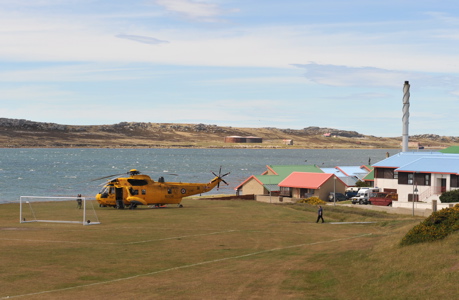 Prince William has arrived in the Falkland Islands for a six-week tour of duty, reports the Associated Press. The Duke of Cambridge's deployment as a search and rescue helicopter pilot was expected but apparently began a bit earlier than originally planned.
According to the Telegraph, the Prince flew out of the RAF Brize Norton base in Oxfordshire on Wednesday night.
William will be stationed at a British military base 45 minutes from Stanley, the capital of the Falklands.
The Prince's mission comes at a time of increasing tensions between Britain and Argentina over the islands. Argentina's foreign ministry has referred to the future king of England as a "conquistador," an insulting epithet that likens him to 16th century Spanish imperialists.
Argentina expressed displeasure that William "will arrive on our soil in the uniform of a conquistador, and not with the wisdom of a statesman who works for peace and dialogue between nations."
Both countries have leveled accusations of colonialism over the Falklands, which Argentina calls Las Malvinas and still claims as its own territory.
This month marks the 30th anniversary of the war the two countries fought over the tiny nation in 1982.
British officials say that William's presence is not meant as a political provocation but is merely part of standard search and rescue work.
"Islanders will be delighted at the Prince's presence in the Islands," reports the Penguin News, "a move they see as strong symbolic support of their right to self-determination."
One islander told the Penguin News, the island's only newspaper, that residents were looking forward to William's visit: "We hold the royal family in great affection, but we don't tend to make a big fuss so he will be able to go about his work and time off without lots of attention – I expect he'll quite enjoy that."
The paper also wrote that "it has been made clear that Prince William will not be undertaking any ceremonial duties during his time in the Islands."
In other royal-related news about Will and Kate:
• Before William left for the Falklands, he and Kate made a momentous decision that truly demonstrates and publicly announces their love and commitment as a couple: they adopted a puppy.
It's a male cocker spaniel whose name has not been released yet. (We wonder whether there are any royal protocols for naming or addressing the pup.)
The dog apparently comes from a litter owned by one of Kate's mother's friends in Bucklebury. The royal couple took the puppy home for a little while to see if they were ready for one, a royal aide told Us Weekly.
"William and Catherine fell in love with the pup instantly, and it wasn't long before they decided to keep him," said the aide.
• Meanwhile, it's been confirmed that Kate will begin to take on her first solo public engagements as a royal while William is in the Falklands.
The Duchess is scheduled to visit the National Portrait Gallery next Wednesday. Last month, the former art history major became a royal patron of the museum, where she will be viewing the gallery's major Lucian Freud retrospective.
Then, one week later, the Duchess will be traveling to Liverpool, where she will attend several charity events. (via The Daily Mail)
Read More
Filed Under: