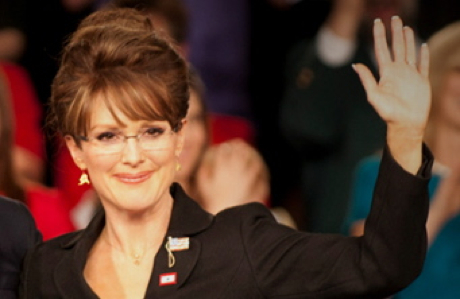 The number one most viewed article on the Telegraph's website today is a story about Sarah Palin?
Why, you ask, would Brits be so interested in the former Alaska governor turned Fox commentator and reality TV star – who also happens to be a standard-bearer of American political conservatives?
Because when she was the Republican vice presidential nominee in 2008 she reportedly made a major foreign policy gaffe in thinking that Queen Elizabeth was in charge of Britain's armed forces in the Iraq war.
This piece of news emerged last week in a report from the Los Angeles Times on the upcoming HBO docudrama Game Change about Palin and her campaign.
The biopic, in which Palin is played by actress Julianne Moore, is based on a bestselling book by journalists John Heilemann and Mark Halperin, who conducted extensive interviews with Palin campaign staffers.
http://www.youtube.com/watch?v=IPhh7mch5zo
But the tidbit about Palin's view of the British monarch's political power reportedly came from additional research by the movie's producers into a conversation Palin had with John McCain's campaign strategist Steve Schmidt, played by Woody Harrelson in the film.
"One jarring revelation in which the movie reaches beyond the book," wrote the LA Times last week, "comes when Schmidt makes a query to assess nominee Palin's awareness of foreign affairs, asking McCain's VP pick how she would respond in the White House to news of waning British support for the war in Iraq."
"The Palin character," continued the paper, "sitting opposite Schmidt in a campaign bus, says McCain would 'continue to have an open dialogue' with the queen of England on the subject. Flabbergasted, the Schmidt character informs her the queen is not the head of government. Palin asks who is. He informs her that the country has a prime minister."
The LA Times says that Schmidt confirmed the account.
Palin, who said she has not seen the film and doesn't intend to, said that it's based on a "false narrative."
Tim Crawford, the treasurer of Palin's political action committee, said: "I haven't seen HBO's latest effort at manipulating history. However, based upon the description and reports from people who have viewed the film Game Change, HBO has distorted, twisted and invented facts to create a false narrative and attract viewers. They call it a docu-drama, there is little 'docu' in it. HBO must add a disclaimer that this movie is fiction."
Read More
Filed Under: