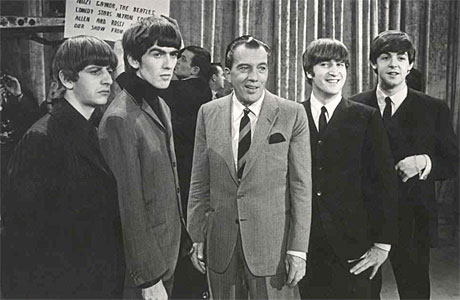 Beatles anniversaries are never too far away, given the amount of very, very noteworthy things the band achieved in such a short time, but it's always worth stopping  for ten minutes or so to look once again at the footage of their very first appearance on the Ed Sullivan Show, which took place 48 years ago today.
http://www.youtube.com/watch?v=6JILsCPSyI0
It wasn't their first appearance on American television – both CBS News and Jack Paar lay claim to showing footage of the band before they made it across in February 1964, but it was their first live performance FOR American television and by some considerable margin the peak of their career to date. Over 23 million households tuned in to see them, criminals took the night off, and the culture-swap between the US and UK (one that you and I are currently reaping the benefit of even now) began in earnest. It's still one of the biggest TV audiences in American TV history, although they could have turned John's microphone up a smidge, and all for a bunch of British kids with some songs about girls. Baffling, and brilliant, all at the same time.
At the other end of the telescope, Paul McCartney's new album "Kisses On The Bottom" came out this week, in which he performs – in rather a beautiful whispery tenor – a selection of jazz standards which would have sat nicely alongside "Til There Was You," even then.
Startling, the passage of time, isn't it?
Read More
Filed Under: