It's fashion week in New York, which means the city is awash with skinny people dressed like a peacock's fancy dress party, and a lot of them are going to be a little bit lost in the big city for the first time. So, to help the little darlings out, here are five views of New York, from London natives who've spent some time getting to know the place.
Thagomizer
The palaeontologist Debi H. Linton's blog Thagomizer has an astonishing guide to the differences between New York English and the Queen's English, with a very helpful conversion table which will definitely help anyone who is a little lost as to what certain words mean, and whether you can eat the thing they describe. I won't spoil it, but you should go and check it out. She also concludes that a) "If it sounds Italian, it is probably a meat," and b) "If it sounds Yiddish, it is probably delicious."
What more do you need?
Jim Parker
This British composer was so smitten he wrote an entire piece for brass instruments, devoted to the Big Apple and titled "A Londoner In New York." Here's a section devoted to Grand Central station:
NY-Londoner
A lifestyle blog about Londoners who live in NYC is a delightful Tumblr that covers a lot of the culture shock once you make the trip, but also serves as a grab-bag of the city's many delights, including the Coney Island Mermaid Parade. Oh and if you are British and feeling homesick, there's even a fish 'n' chip shop that sells British chocolate.
Jason Bell
This London-born photographer looked upon New York as a city teeming with Brits, so he took it upon himself to find as many expats as possible – famous and otherwise – and take their pictures against the backdrop of the city. His collected portraits were later released as a book, entitled An Englishman In New York. Notable British New Yorkers such as the author Zoë Heller (also a Londoner), Sting* and Kate Winslet rub shoulders with expats from all walks of life, as Jason explained: "I went for a walk in Central Park with Sting, for a cup of tea on Kate Winslet's roof terrace, sat on Zoë Heller's stoop and watched Stephen Daldry cycle down 8th Avenue. I was given a private tour of both the Metropolitan Museum and Barneys' shop windows. And amidst all the questions about why people had come here and what they had left behind, I learnt a little bit more about what it means to be English, what it means to be a New Yorker, and where the two intersect."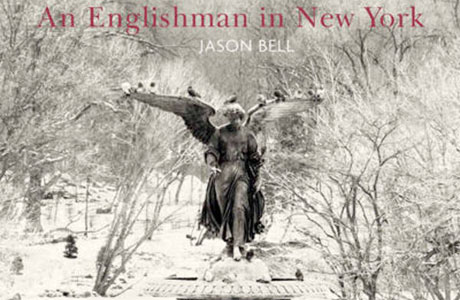 Shane Richmond (Daily Telegraph)
A less flattering view from our Shane, dating back to 2007, who took exception to a piece in New York magazine which attempted to rank major world cities against each other.
He explains: "Only a New York magazine could have written such a feature because only New Yorkers would want to start a debate about how well their city compares with another. Confident and brash but a little neurotic – that's New York.
Parisians wouldn't ask the question because they know they live in the best city in the world (I'm not saying they're right but there is no doubt in their minds). Londoners wouldn't ask because we don't care what anyone else thinks. In fact, we think our city's a bit crap but we still wouldn't want to live anywhere else."
Yeah! That's how Londoners show civic pride! Badly!
* Incidentally, y'know how Sting said Englishmen like their toast done on one side, in that song? Utter rubbish.
Read More
Filed Under: