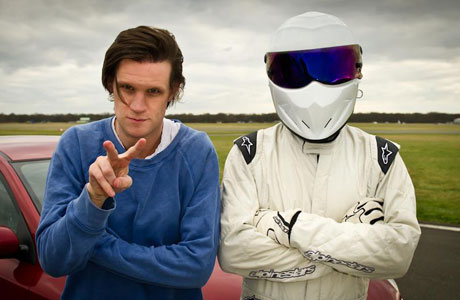 What happens when a Time Lord trades in his TARDIS for a Reasonably Priced Car and leaves behind his earthly companions to face off with another other-worldly being, the Stig? Like David Tennant and Christopher Eccleston before him, Doctor Who's Matt Smith has made a guest appearance on the popular UK motoring show Top Gear, testing his skills on the series' legendary race track. Don't worry, you Whovian gearheads, the episode is set to air in the U.S. Monday, May 21 on BBC America. Here's a bit of a sneak peek:
Here's Mr. Tennant's appearance on Top Gear from way back in 2007, in which he wears a suave smoking jacket:
And here's a bearded Eccleston doing his interview and lap. Clarkson immediately notes the facial hair, which he terms a "space fungus."
And finally, here's Billie Piper's 2007 appearance.
• Matt Smith isn't the only Doctor Who cast member doing a bit of moonlighting: Karen Gillan stars in the telefilm We'll Take Manhattan, in which she plays '60s British supermodel Jean Shrimpton. The film, which premieres in the U.S. this Saturday on Ovation (March 3), depicts her whirlwind love story with fashion photographer David Bailey (Aneurin Barnard) as they hit NYC for a Vogue fashion shoot.
For comparison's sake, here's an old interview of the real-life Jean Shrimpton on What's My Line? in the '60s:
• Congratulations are due to Steven Moffat for his well-earned nomination in the Drama Writer category in the Royal Television Society's annual awards. It's for his work on Season 6 of Doctor Who. Here are the nominations in full.
• Here's the trailer for Doctor Who: The Eternity Clock, the new PS3 game set for release in March:
• For those are you who weren't lucky enough to join the Gallifrey One Convention in Los Angeles, Crave Online has put together a seven-minute video of highlights, including the epic cast reunion of the 1996 Eighth Doctor movie. And Paul McGann himself takes the controls of his old TARDIS!
• This week's companion is the unfortunate Kamelion, the wonky shape-shifting robot with IT support issues.
• Speaking of our metallic friends, here's a little history of robots included as a DVD extra with The Robots of Death.
• Archeologists Sir Christopher Frayling and Dr Debbie Challis take a look at how the Tomb of the Cybermen took direct inspiration from  King Tutankhamun's tomb in the Valley of the Kings.
• Oh and speaking of special effects, What Culture have compiled a top eight of particularly affecting special effects from the classic series, including the one where the Fourth Doctor looks like a cactus. Come see!
Read More
Filed Under: